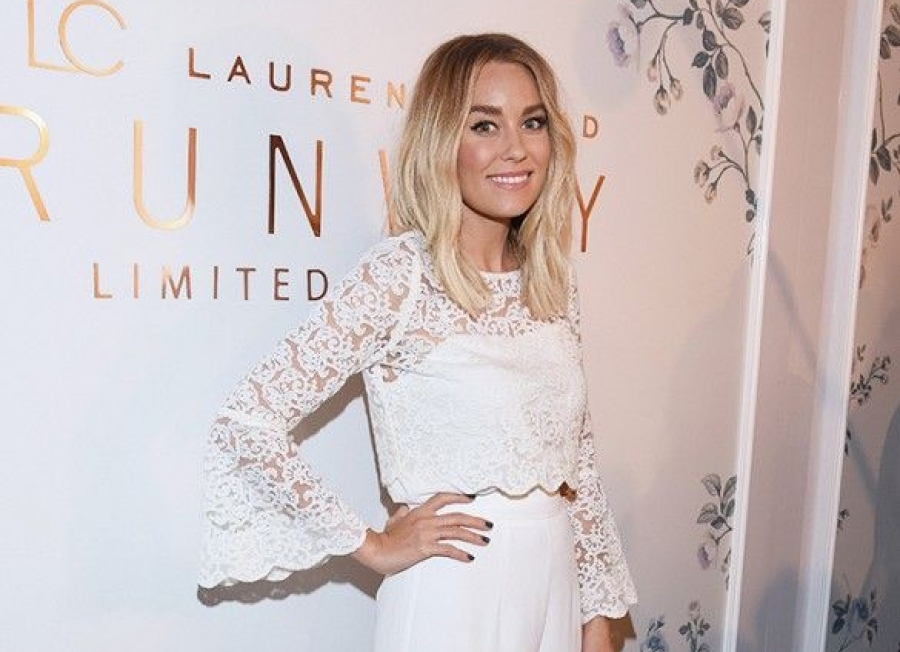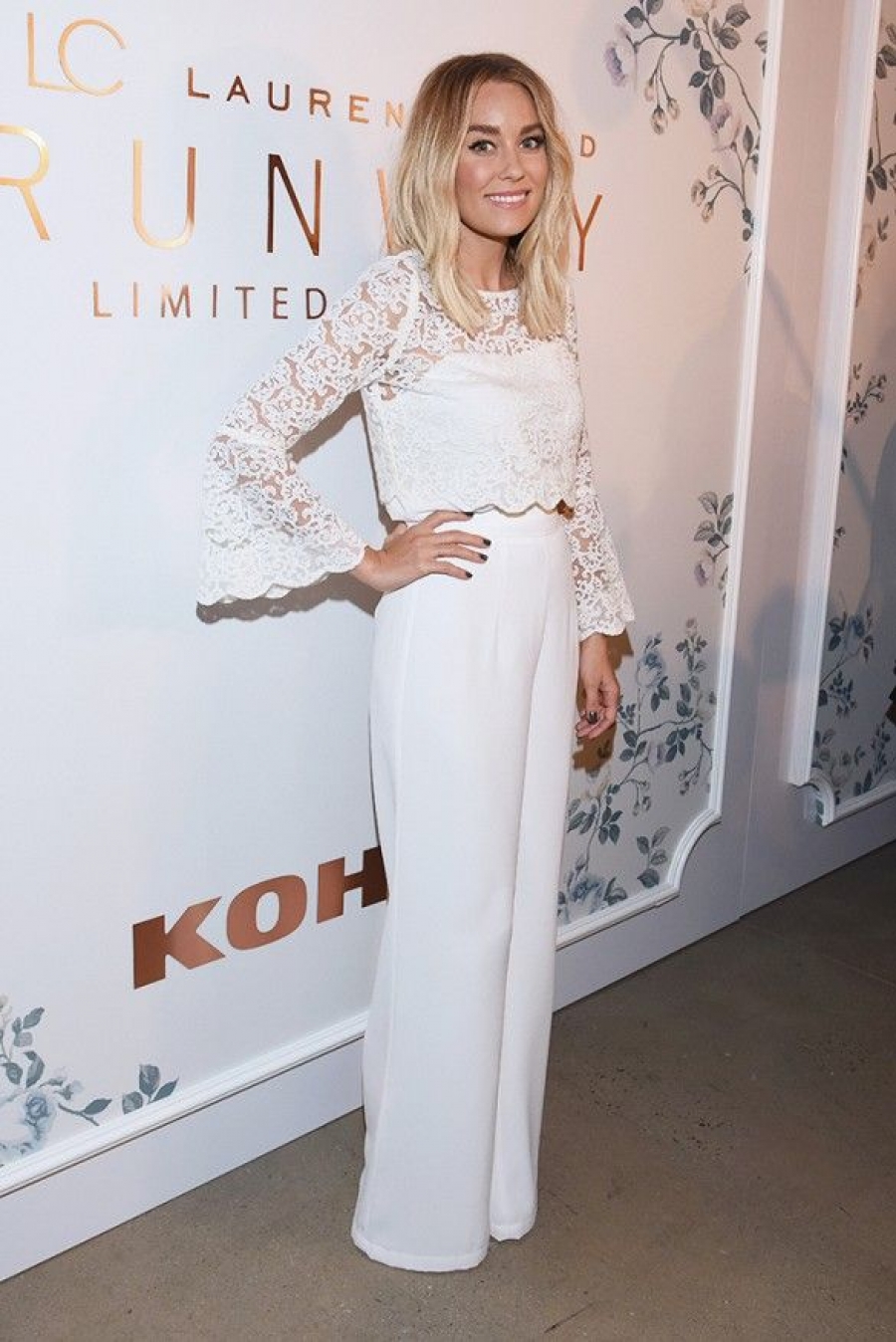 Fashion trends are those funny things that do a really good job at polarising people. For the half of the population that jumps on the bandwagon and buys up every trend in sight for the season, there is the other half who can be seen rolling their eyes every time they walk past a 20-something parading a flower crown on her head on a regular Tuesday afternoon. They certainly make life interesting, but one of the big dilemmas women have is figuring out if the trends of the season will flatter their body type. Every woman's body is as different as it is beautiful, and many of our clients at Josephine Eve find themselves shrinking away from the dominant trends each season for fear they will look silly if they wear them. The thing is, though, that they couldn't be futher from the truth. For most trends that roll around, there is nearly always a way to wear it, regardless of your shape or size. It might require a little creative thinking, but if you're interested in fashion then you're probably already accustomed to thinking outside the box, are we right? For each of the below trends, we've given you four celebrities with different body types, and explained how they have made the trend work for their shape. Read on to find out how you, too can wear the spring/summer 2016 trends with confidence!
---
70s STYLE
---
The 70s trend is here to stay for another season, and really, we're not suprirsed. Just look at it! It's so footloose and fancy free and really, who wouldn't want to go back in time to such an exciting decade!?
OVAL: LONG DRESSES
The 70s-style floor-length dresses are ideal for oval-shaped women like Melissa McCarthy, and the Bridesmaids star is brimming with confidence in this gorgeous, hippie-inspired number. Oval-shaped women are fuller through the tummy / middle of the body, and so the empire-line (seam under the bust) of this printed dress works a charm for creating shape, while the length of the dress has a lengthening and slimming effect.
COLUMN: FRINGING
Column ladies are always looking for ways to create shape in the body and movement through their clothes, and this is where the fringed jacket comes in! Fringing is one of our favourite 70's trends of the season and one that can be easily worn through accessories as well as clothing. The fringed jacket adds interest to an all-black outfit and is great for throwing over just about anything.
TRIANGLE: FLARED JEANS
Remember bell bottoms? Well, they are perfect for triangle or pear-shaped girls like Jessica Alba. The flared ankle of these jeans balances out wider hips and bottoms, and is one of the most iconic looks you can go for if you want to go head-first into the 70s trend. If you really want to finish off the outfit, we recommend a structured jacket which will balance out your bottom half even more.
PETITE: LONG VESTS
Petite girls like Olivia Palermo are always striving to create length and height through their clothes, and the floor-length jeans and long vest worn here do a great job of that. We love the strong 70s influence here! Just be sure to wear this kind of look with a high heel or boot to balance out the proportions of the vest.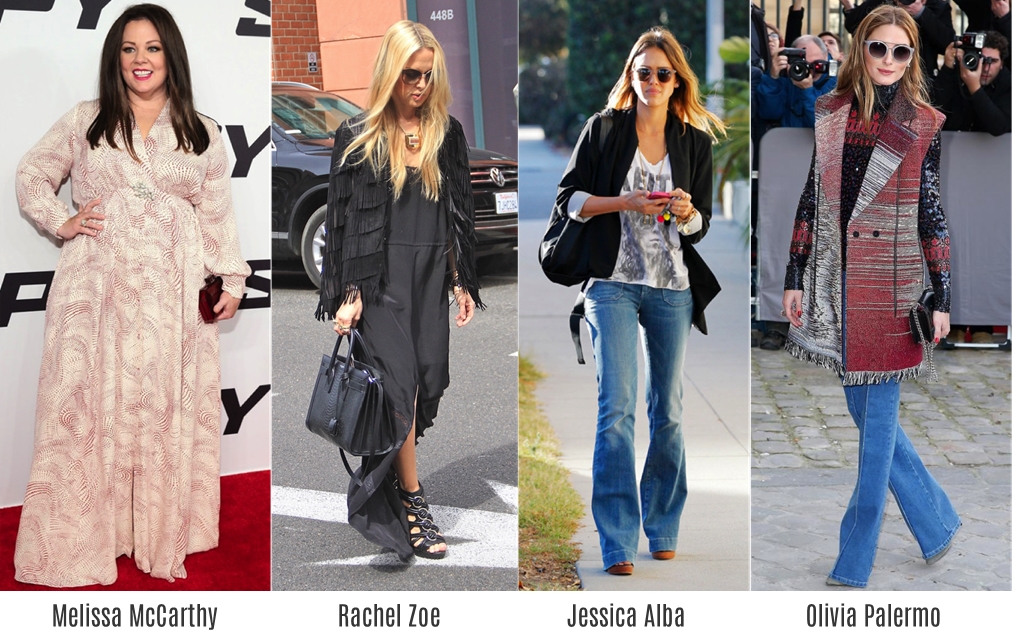 ---
COLOUR MANIA
---
You can't go past colour in the summer months when the sun is shining and your skin is glowing. You can opt for bold, bright colours worn alongside each other in the one outfit in a "colour blocking" fashion, or alternatively you can pick the one colour and wear it from head to toe.
COLUMN: PEPLUMS
Straight-figured ladies can utilise the colour-blocking fashion to the utmost, by choosing two contrasting colours in the one outfit, separated directly across the middle at the waist. The waisted, peplum skirt worn by Emma Stone below does a great job of creating the illusion of a defined waist, while adding a cute, feminine touch.
HOURGLASS: ONE COLOUR
If you're an hourglass girl, opt for a figure-hugging dress in the one colour. Hugging your curves is the most flattering thing you can do for this figure, and if you can, choose a V-neckline or a peephole neckline like the one on Katy Perry. Just be sure to wear a pair of Spanx or other slimming and curve-accentuating underwear to avoid the dreaded VPL (visible panty line!)
OVAL: EMPIRE LINES
You can still wear the colour blocking trend as an oval-shaped girl, just be sure to pick a dress or top that utilises a high waistline or empire line to create the illusion of a waist. We love the thick, jersey-like fabric of Rebel Wilson's dress, which is slimming and effortlessly skims over her curves.
TRIANGLE: LONG CARDIGANS
Bottom-heavy triangles need to balance out their top half, and we love the way Beyoncé does this by introducing a long cardigan that casually falls over her hips. The bright, contrasting colours are right on trend and create a really fun and vibrant look.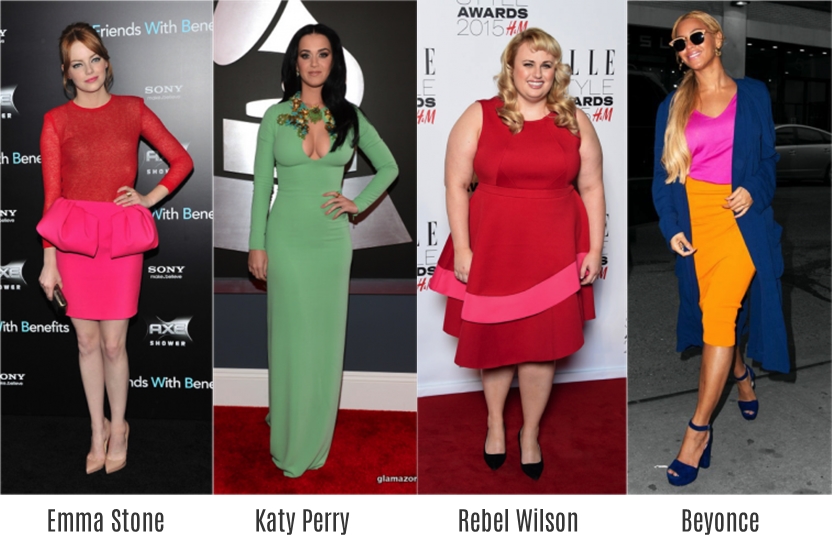 ---
GOING ALL WHITE
---
Many women find white to be a daunting shade to wear. But don't worry, because gone are the days of see-through and unflattering fabrics, and there is a way for every body shape to wear white, you just have to know how! Even if white isn't your colour you can always get away with another, warmer shade of white such as cream or a beige-white.
HOURGLASS: FIGURE-HUGGING
It's no secret that Kim K has the ideal hourglass figure, but she also knows how to dress to flatter it, which is one of the reasons she always looks so fabulous. Hourglass girls can jump on board the all white trend by opting for a figure-hugging look with an accentuated waistline. This will highlight your sexy and gorgeous curves while drawing the eye to the smallest part of your body: the waist.
OVAL: LAYER UP
Thank you, Melissa McCarthy for opening our eyes! We are in love with the way she has worked the white trend, utilising varying, textured fabrics in lots of layers. The reason this outfit works is because each layer's hem finishes at a flattering part on the body. The middle layer has a feminine, flared-skirt-like effect, and Melissa's pale yellow shoes blend into her skin tone, which adds length to her legs rather than cutting them off at the ankle like a dark shoe would.
INVERTED TRIANGLE: SLIM-LEG PANTS
Inverted triangle ladies have shoulders that are broader than their hips, and so they always look great in pants. We love the way Rosie has rolled her jeans up to show off her slim ankles, while wearing a darker shade of white on her top half. This keeps the focus on her focus-pulling and bright white-coated legs, rather than on the upper half – a great tip for inverted triangle ladies.
COLUMN: FLARED PANTS
Emma has a petite, straight up-and-down figure, and the dress she wears below works a treat for her shape. The cinched-in mid-section combined with the flared skirt makes her look as though she has a defined waist, and this is something the column girl is always striving for.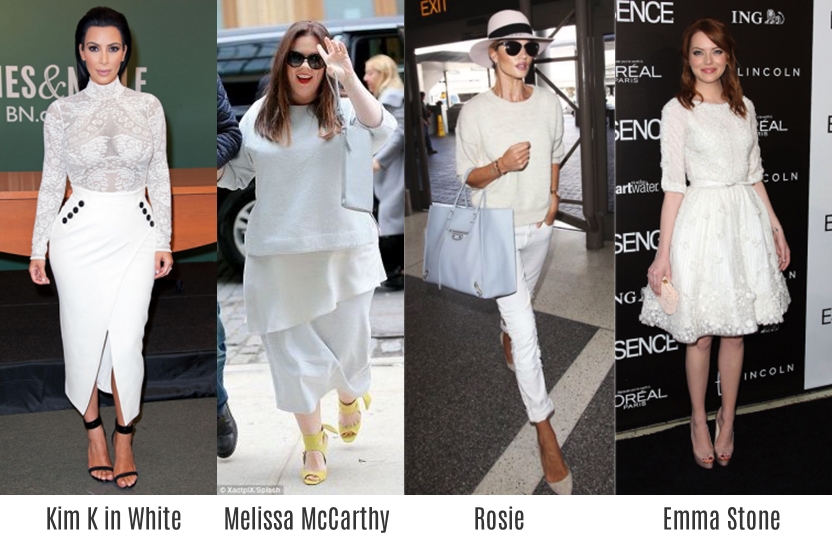 ---
THE MIDI SKIRT
---
The midi skirt has been around for many seasons and is still going strong. It's feminine, it's versatile and absolutely every body can wear it. Read on to find out how…
TRIANGLE: FLARED SKIRTS
The midi skirt is a triangle lady's dream come true. The waisted style highlights the triangle's small waist while the flared skirt disguises a larger bum and hips. Attention is efforlessly drawn to the petite upper body, which is usually the triangle lady's best asset. Perfection!
PETITE: PENCIL SKIRTS
As a shorter lady, you don't want to go too long with your midi skirt – just below the knee is the ideal way to dip your toes into the trend while still looking proportionate. We love the gorgeous, summery print of Olivia's skirt, teamed with the knotted chambray shirt which creates some much-needed shape and curve.
COLUMN: LOOSE AND LAYERED
If you're column-shaped, you can't go past the full and floaty look below. The masses of fabric in both the skirt and shirt add shape and movement and best of all, add a really feminine feel to the straight-figured lady who can tend to feel self conscious about her lack of curves.
HOURGLASS: KEEP IT TIGHT
The rules are fairly simple for hourglass ladies, and here we go again, like a broken record: keep your clothes fitted! Kim K shows off a gorgeous midi-length pencil skirt below that works a charm beginning at the waist and paired with heels and a skin-tight top.