CORPORATE IMAGE STYLING
Build your brand identity! Having an 'on point' personal brand and business profile is so important, especially in today's corporate arena. It can make all the difference to confidentially sealing that important business deal, gaining trust with new clients and making a lasting, unforgettable impression!
Consistent brand messaging is essential, which is why I always undertake extensive research into the colours and styles that will align perfectly with your brand, logo and personality.
I will help create and define your signature style, teach you how to dress to enhance your shape, elevate your entire look and ultimately help you nail your image again and again!
CONSULTATION (1 HOUR)
Getting to know you and how we can work together to realise your goals.
I will help you understand your shopping habits and clothing needs.
You will learn what colours and styles best suit you.
Learn how to create looks to suit your workplace environment, budget and goals.

WARDROBE EDIT (1 HOUR)
Using your current workwear we will create various looks that will save you time, money and hassle.
We will explore new ways to wear your suits and work outfits
Discard clothes that don't align with your goals.
Find out exactly what you're missing in order to complete your looks.
You will learn to maintain and manage your working wardrobe.
Have your wardrobe organised in a more stylish and practical way.

SHOPPING EXPERIENCE (3 HOURS OR 5 HOURS)
An experience tailored to your individual needs.
Enjoy shopping with a qualified stylist.
Learn how to shop faster, smarter and with confidence.
Save time and money with insider knowledge.
Find out how to match pieces and create new looks for everyday at the office.
Discover new style options and find out what works for you.

WARDROBE INTEGRATION (1 HOUR)
Gain a comprehensive understanding of your individual style in the workplace.
See every new outfit we have created for your work wardrobe.
You will be shown how to combine interchangeable workwear from day to night.
Completely revitalise your corporate wardrobe!
Enjoy absolute confidence in how you present yourself in the work-place.
LOOK BOOK (OPTIONAL EXTRA $259)
Includes 20 of your work outfits in your very own personalised printed Hardcover book
Never worry again about what to wear to work and what items go together
Additional outfits/looks an extra $7 each

NEW BONUS INCLUSIONS-
A mini colour palette swatch based on your hair, eye and skin colour
Your ( 7 page) Body Shape PDF which includes info and images on what tops, jackets, bottoms, dresses and accessories flatter your shape the most

A 'Post

Wardrobe

 Edit Recommendations' PDF which includes tailoring, donating and selling recommendations.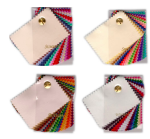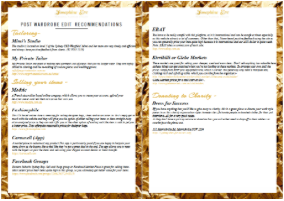 3 HOUR SHOP VALUE= $720
5 HOUR SHOP VALUE= $1020
LOOK BOOK (OPTIONAL) VALUE= $259