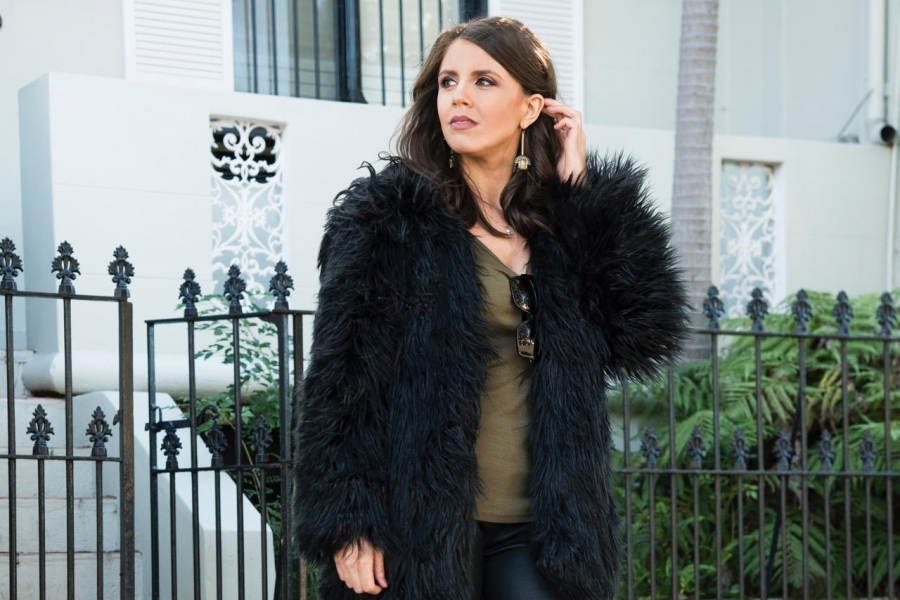 Wearing black is a statement. This heavy hue exudes a sense of professionalism and power when worn for work, or sexiness and mystery when worn out in the evening. During the day it can be a subtle nod to the classic, elegant and understated. It absolutely NEVER goes out of fashion, and is totally unaffected by each season's ever-changing colour trends. It goes with every colour of the rainbow, can be worn day or night, winter or summer, and on top of all of these positives, it's also known to be the most slimming colour a person can wear. Think of it like the BB cream of the fashion palette! It's great for hiding or detracting from those parts of the body you're less fond of, (perhaps a tummy or fuller thighs, for example) and is the easiest shade to throw on when you simply don't know what to wear or what you're in the mood for.
Black really is a girl's best friend, and right now, black is 'back' in a big way. Although it never really 'went' anywhere, winter has a way of beckoning this moody hue out from the reaches of the closet, and people love to wear it in everything from clothing to shoes and accessories in winter more than any other season.
1. ACCENTING YOUR BLACKS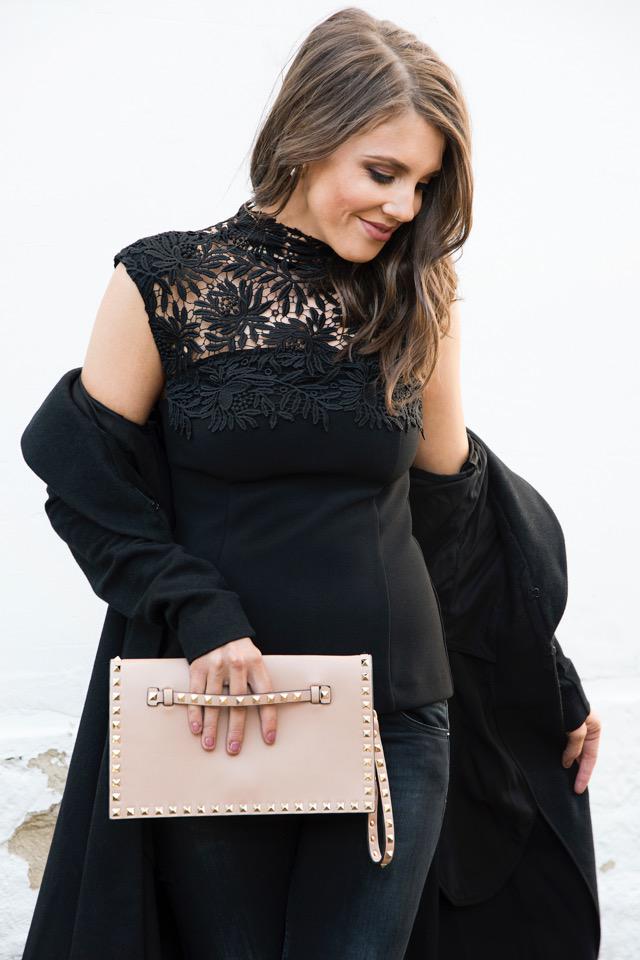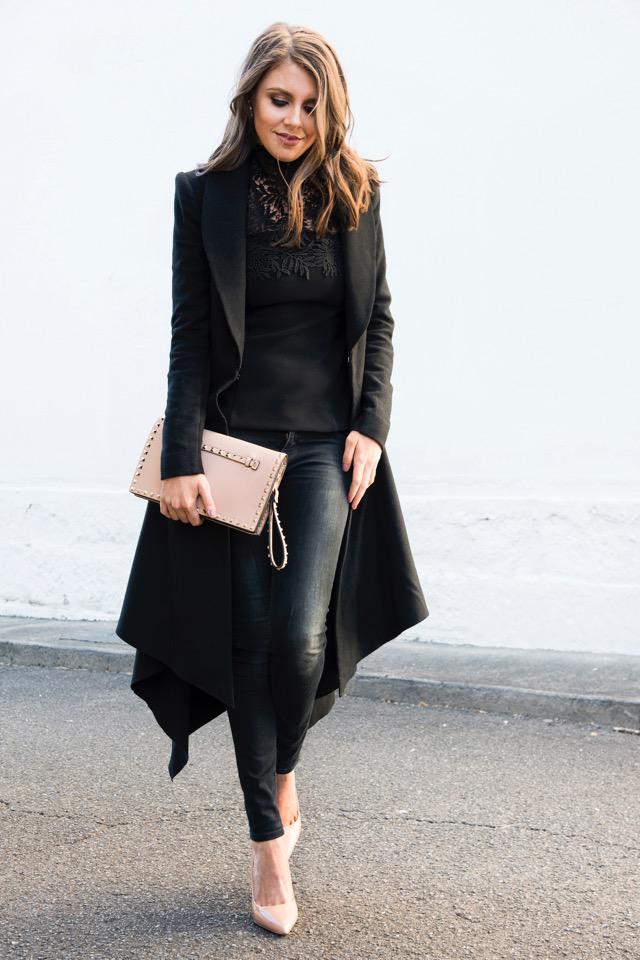 White Suede top, Willow coat, Tony Bianco heels
The Lace detail on this White Suede top gives the overall look that feminine feel I love, while still conveying a strong and powerful image thanks to the black Willow trench worn with it. I've added in some nude coloured accessories to the outfit as it breaks up the look and prevents it from entering 'heavy' territory, which can happen when wearing black from top to toe.
---
2. TEXTURE, TEXTURE, TEXTURE!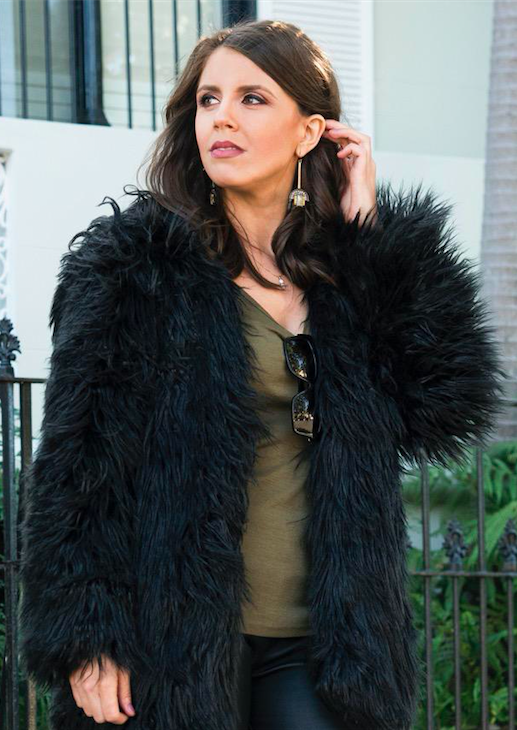 Lioness official 'Portofino Fur Coat', Seed khaki sweater, Willow pants,  Mollini caged booties, Celine sunglasses
I call this coat my John Snow coat! Game of Thrones fans, you'll know why this is, or for those that don't watch GOT all you need to know is its texture and feel is amazing, and it is as cozy as a coat can be. The shaggy rug of a faux fur coat is a mere $109 from retailer, Lioness, and it's a super warm trend piece that won't break the bank like some of the other faux furs out there.
The leather pants are again from Willow, and they're super comfy with plenty of give in the leather. They have a thick layer of leather which I find is a lot more durable and warmer than many of the thin leathers out there. The Mollini caged lace up bootie from Wanted Shoes is great, again for breaking up the look with detail and texture, as is the khaki coloured knit I'm wearing underneath. The Lioness coat has sold out very quickly but I've managed to hunt it down here!
---
3. THE LBD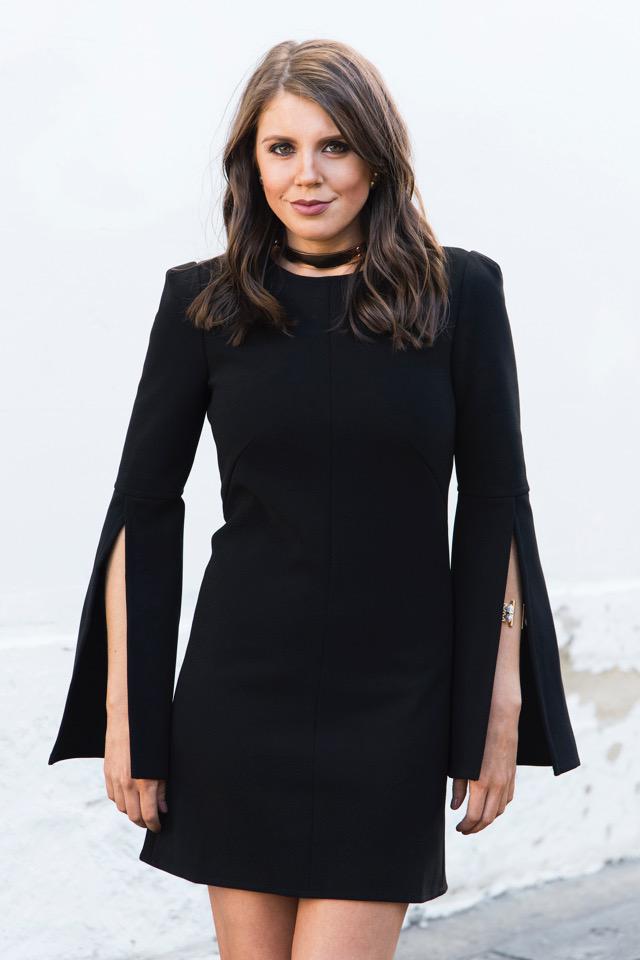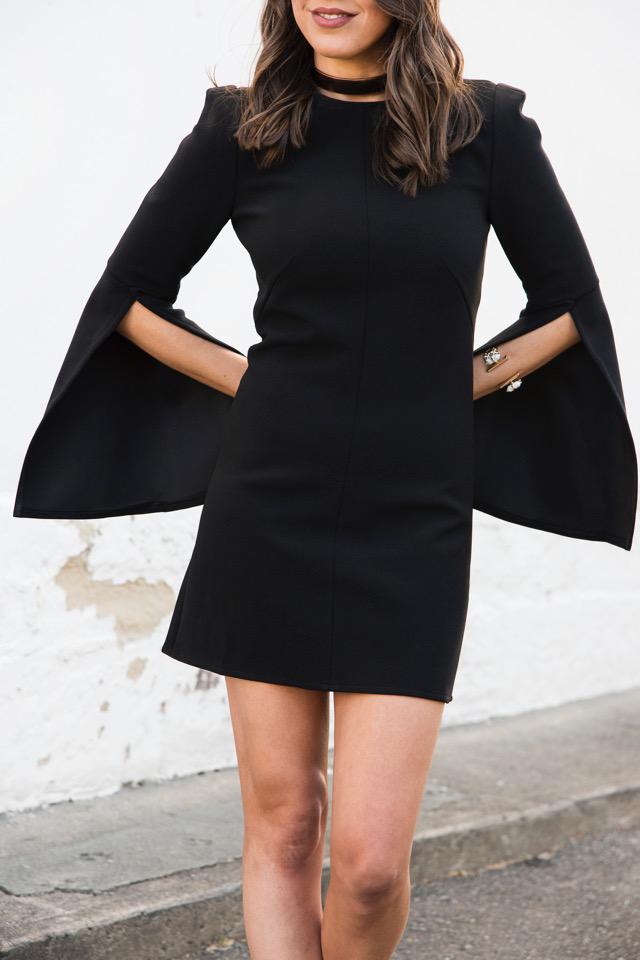 White Suede dress, White Suede choker, Samantha Wills bracelet
The bell sleeve is back in a big way thanks to the 70s fashion revival of the past few years. On this White Suede dress, though, it's the slits in the sleeve that are making heads turn. This dress is the ultimate LBD and it's the perfect dress for making a statement. It's on-trend and yet understated, and its sexiness comes from the mini length that shows off your legs. It manages to stay undeniably classy and elegant while still being a head-turner for its fashion edge. The best bit is that it is such a statement in itself it needs next to nothing else accessories-wise to bring it to life! Simplicity is a beautiful thing…