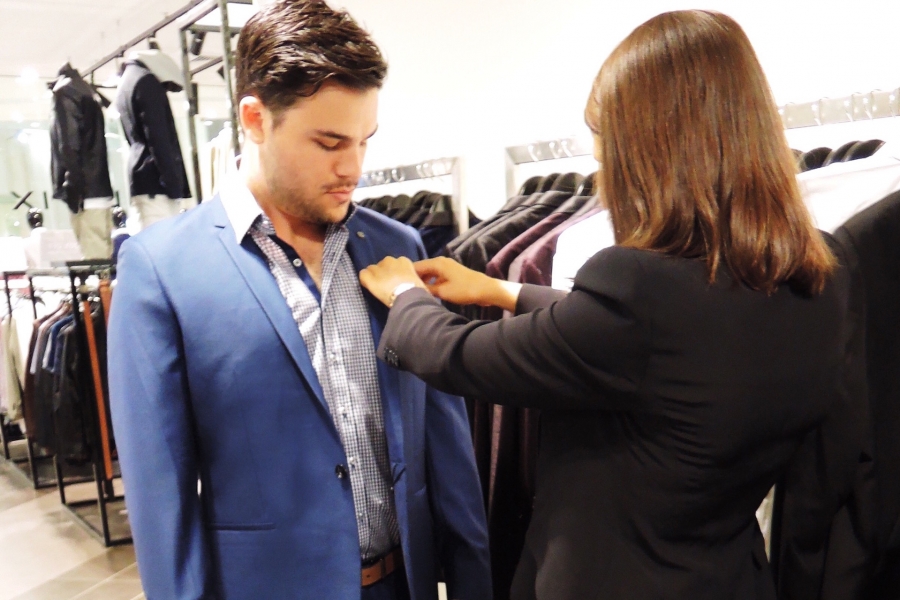 Meet Dylan the Entrepreneur from Divitis Finance an electrician turned mortgage broker helping young professionals into homes. He had made the big transition 18 months ago after he realised that he wanted to share his passion and knowledge for property investing and has never looked back.
I first came about Dylan through Charlotte who runs an amazing business called Bright Hand, that I never knew this type of niche service existed until a couple of months ago; A freelance personal assisting and lifestyle management business. I then had a meeting with Charlotte and she told me that one of her clients who had requested for a personal stylist needed help to update his corporate wardrobe and perfect his image for his brand through Charlotte's lifestyle services.
---
The Consultation-
---
I initially met with Dylan via Skype, which I find is the most convenient way to begin liaising with my clients, especially when they are time poor. We were under a pretty tight schedule to find a solution to Dylan's wardrobe dilemma on this occasion, so Skype was ideal.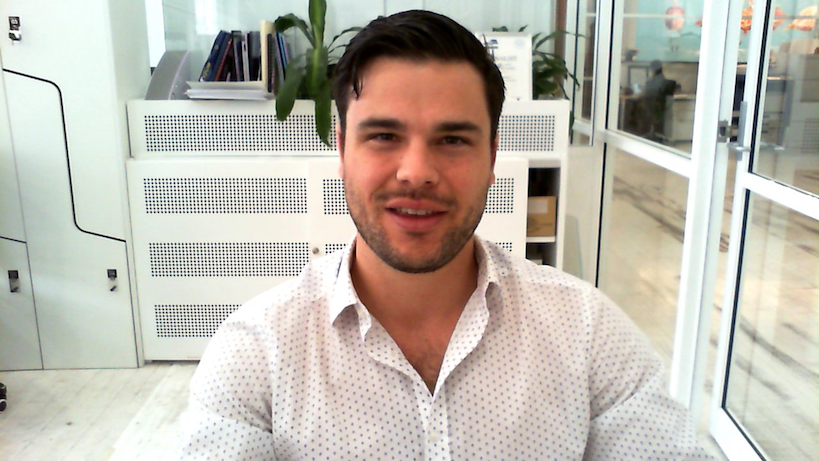 The consultation part of the styling process is where I open up the dialogue and begin to get to know my client. I try to find out as much as possible about who they are, what they're about, what their goals are, what their work or business involves and what makes them happy. While this might seem rather personal, styling is not just about fashion – it is about understanding personalities, emotions and the potential people have to express themselves through their outfits, presentation and image.
We've all met those people who seem to walk into a room and exude absolute confidence. They look amazing, seem to be utterly content and people are naturally drawn to them. Well, this is what can happen when you are not only dressed well, but also truly representing the person you are and what you stand for – greatness!
---
Wardrobe Edit-
---
To begin the in-person process with Dylan, first we needed to do a Wardrobe Edit. I started off with a small exercise where I showed him a series of images of male celebrities in a variety of fashion styles, cuts and colours. This always gives me a better understanding of what the client is naturally drawn to and therefore what they would potentially want to look like if they knew what to buy and how to put outfits together.
We then headed to the wardrobe and, starting from left to right, I began to go through what was a bit of a mess! But don't worry, this is very common and totally understandable, especially for those working professionals leading a busy lifestyle. The last thing that's on your mind is the state of your wardrobe…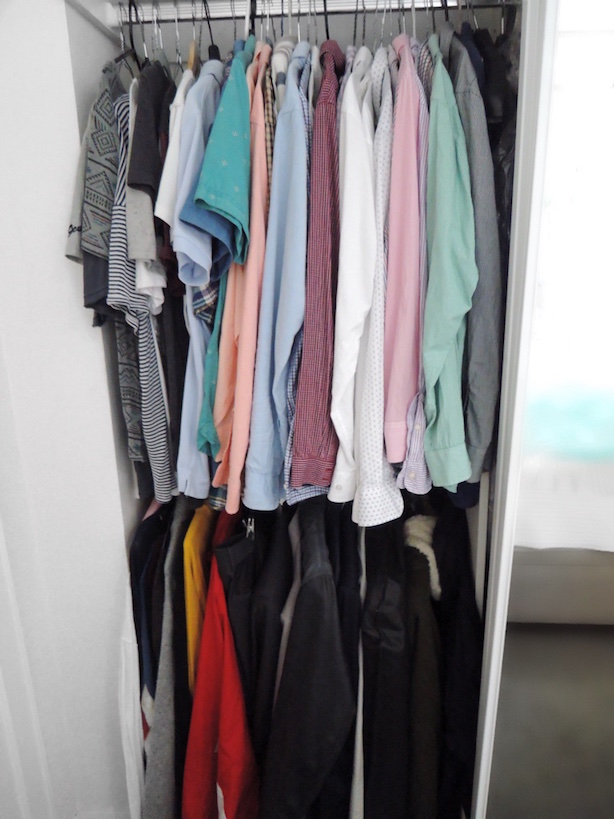 ---
The 'No' Pile-
---
The next step was getting rid of anything that wasn't Dylan's style based on the images he liked, or that didn't do his image justice. These included pieces that were too small and didn't fit him anymore, things that were outdated, damaged or faulty clothes, items that couldn't be fixed through tailoring and clothes in colours that didn't suit his complexion. I put all of these pieces in a pile and eventually got the pieces into garbage bags ready to be dropped off to donation bins.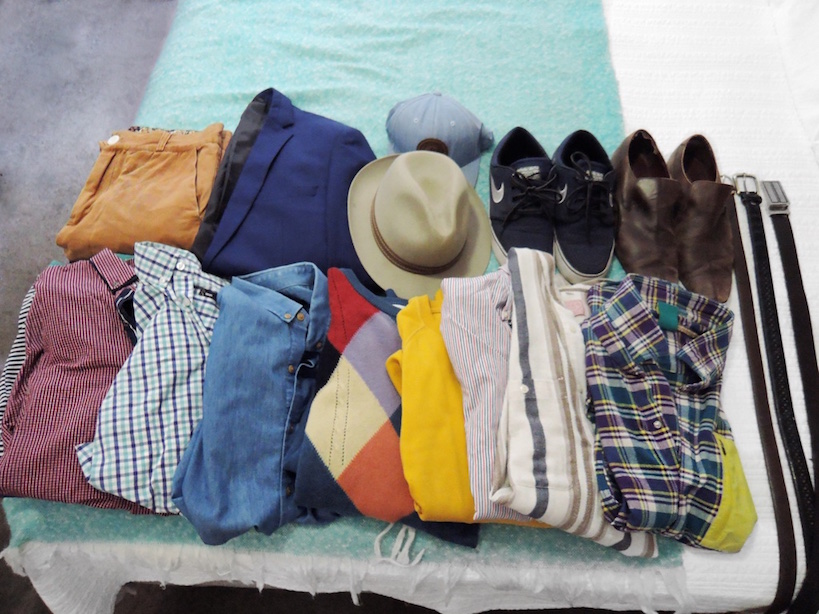 ---
Tailoring pile-
---
When Dylan was trying on his pre-existing suits so I could see how they fit on his body, I discovered that some of the arms on the blazers were in need of altering and the pants were too long and hadn't been hemmed correctly, so I made a 'tailoring pile'.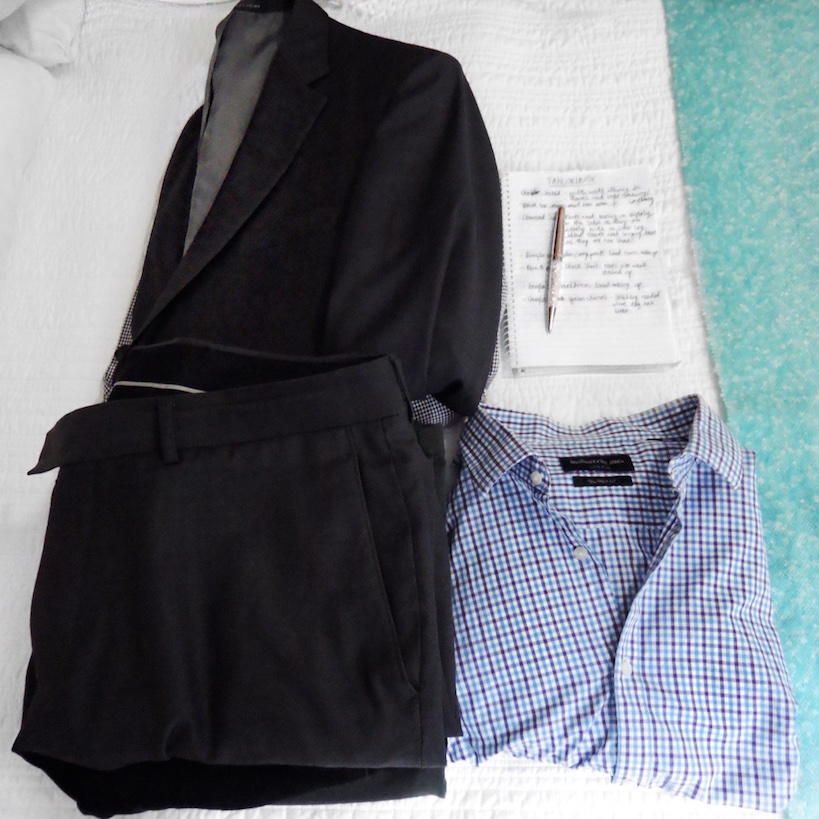 ---
Sorting and Coordinating-
---
I then sorted Dylan's wardrobe for him starting from left to right and colour coordinating as I went through shirts and then jackets and blazers.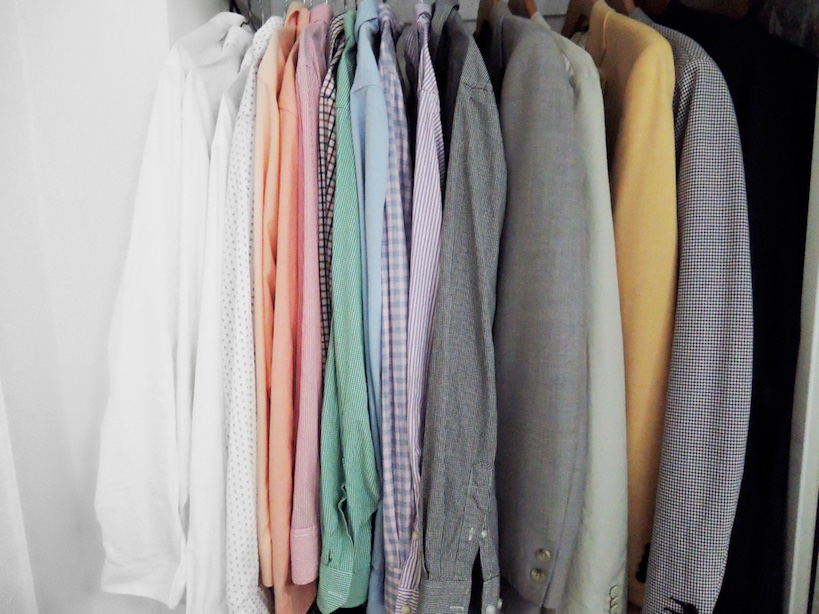 I then moved onto pants, shoes, and lastly, accessories.At this point I discovered that Dylan didn't have a lot of shoes or accessories that he could style back with items in his wardrobe. I made a note to fix this when I took him shopping!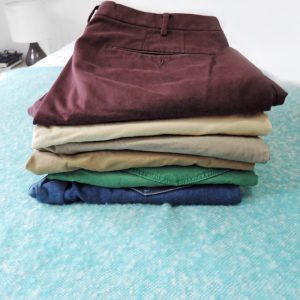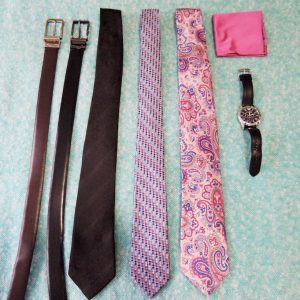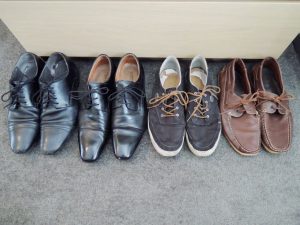 ---
Shopping List-
---
Ahead of our shopping experience, I created a list of items that Dylan needed in order to create a larger, diverse wardrobe from which he could make lots of great outfits. This meant determining which items he needed that are incredibly versatile and would go really well with lots of other items in his wardrobe. Here is what his shopping list looked like…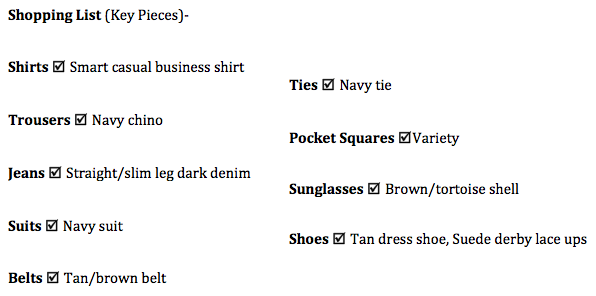 ---
Shopping experience-
---
I always pre-shop for my clients ahead of our time together as it is so much more efficient than the client waiting around for me to source clothes for them to try on. I go out and gather up the pieces from various stores before they arrive, and have them stored in a change room ready for the client to try them on as soon as we start shopping.
Dylan and I met at Politix, where I had some suits for him to try on that I knew were within his budget but also smart looking.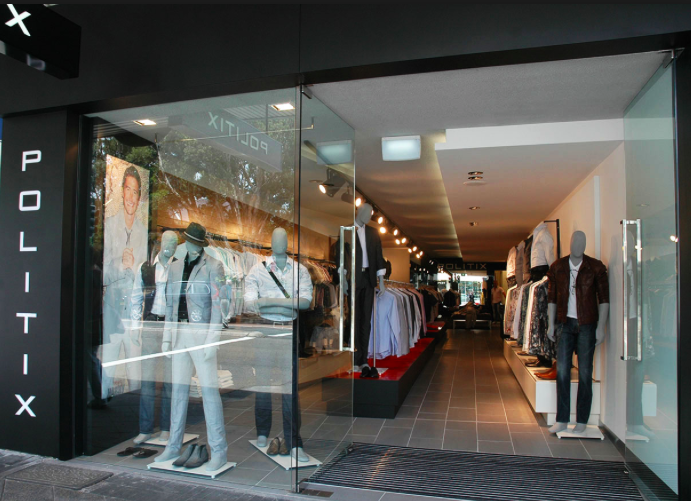 We headed straight to the change room where Dylan tried on three different suits in different shades of navy. He looked great in all three but we felt drawn towards the second and last suit option. We kept those suits in mind and took photos to remember what each one looked like so we could make an informed decision at the end of our shopping experience.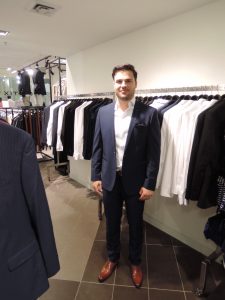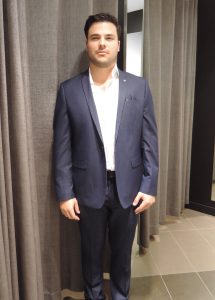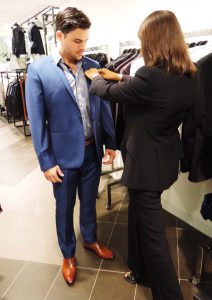 I then took Dylan onto the next shop, this time a department store – Myer. Here he tried on some pieces that worked and others that didn't. I always want my clients to be honest and tell me if they aren't in love with the item I've sourced, because what's the point in making a wardrobe that you aren't going to absolutely love wearing!? You will only end up choosing to wear your old wardrobe pieces over the ones that you just spent your hard earned money on!
Dylan ended up buying a navy blue check linen shirt and a pair of navy chinos because the majority of the shopping list was corporate pieces and I wanted to add some smart casual pieces into the mix. As a mortgage broker Dylan doesn't have to wear strictly corporate fashion as long as he looks smart, so these slightly more casual pieces would be ideal for those days when he doesn't want to wear a suit. These pieces also work really well for casual Fridays and for the weekend.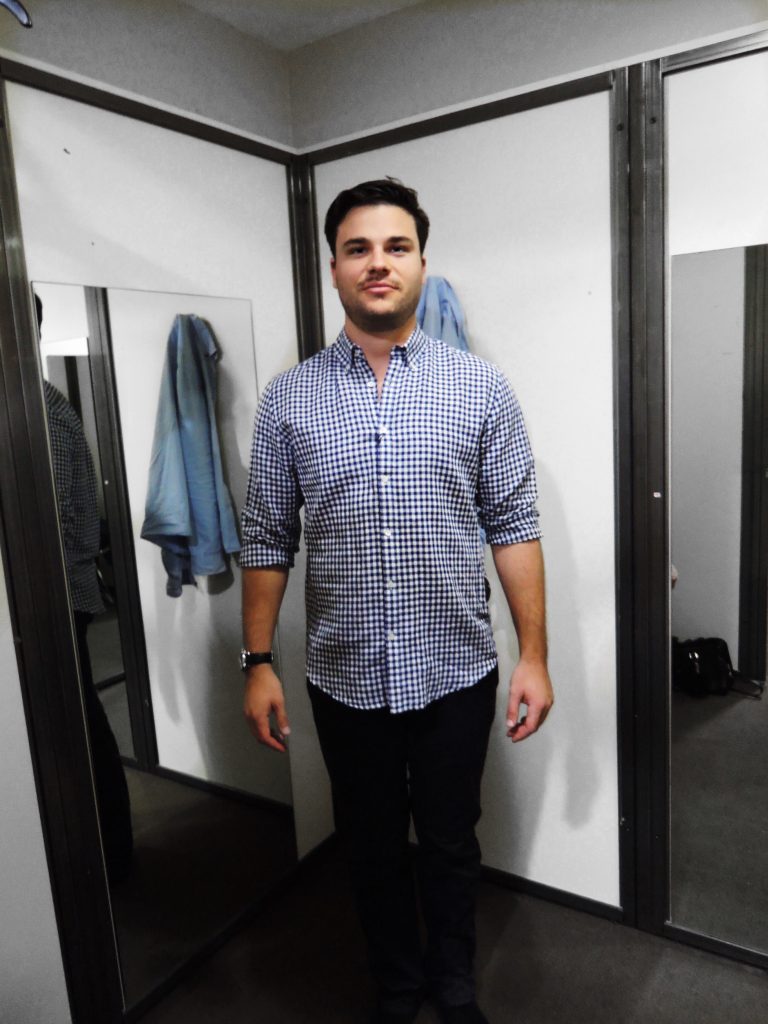 Our next stop was David Jones where Dylan tried on an amazing (and very budget friendly) suit from Studio W, which ended up being the winning suit in the end. He also bought a pair of dark denim jeans from Neuw Denim to go with all of his smart casual outfits, shirts and blazers.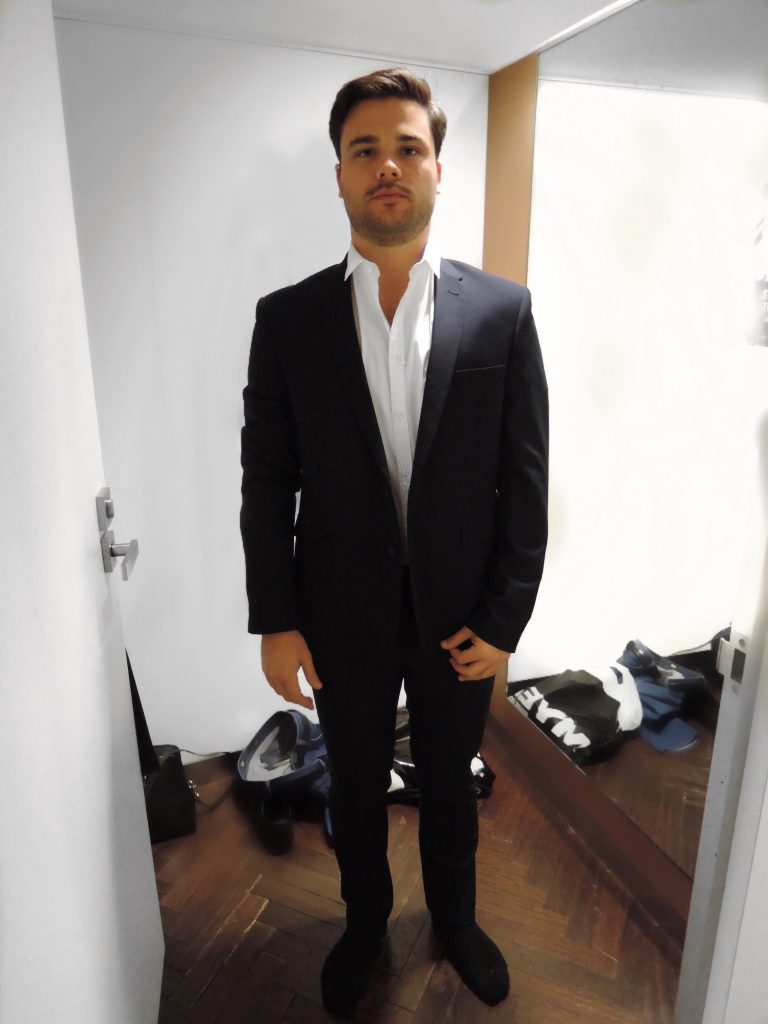 I also found Dylan a pair of navy suede derby lace ups to go with his chinos and jeans for more of his smart casual and casual looks, a pair of tan lace up business shoes, a tan belt, navy blue tie and a pocket square.
Our session was almost finished and at the last minute I remembered: sunglasses! We raced to Sunglass Hut, where they had a really nice looking tortoise shell pair of Ray Bans which were the instant winner.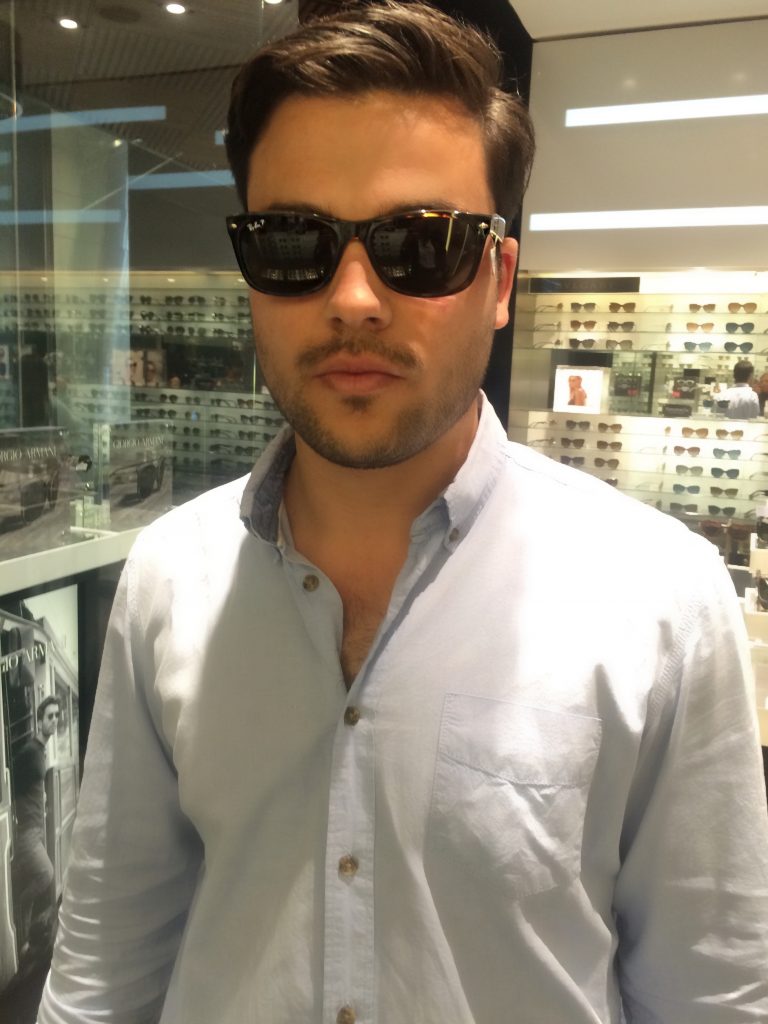 ---
Wardrobe Integration-
---
Now this is where the fun begins! In this part of the process I start creating outfits by mixing and matching the client's pre-existing wardrobe pieces and the new pieces we've just purchased.
Here are a couple of my favourite looks that I put together for Dylan: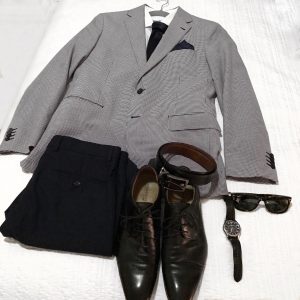 ---
Style Update Overview-
---
Helping Dylan with his wardrobe overhaul was incredibly fun, and he seemed to learn quite a bit throughout the session, especially as I was laying the outfits down and showing him how to style the pieces together. In the small amount of time we had, I managed to flat lay almost 30 looks using a selection of key staple pieces! That wasn't even half of his wardrobe and Dylan didn't have that big of a wardrobe to start with, so both Dylan and I were thrilled!
We didn't have a massive amount in the budget to play with for a big wardrobe update, but in the end we had some amazing pieces that all came in just under budget. I also explained to Dylan how important it is to have basics in your wardrobe that can be used to create dozens of versatile looks. Without the basics, it's hard to create stylish, balanced outfits.
Below are the pieces Dylan purchased. You will notice that most of the pieces are in the colour navy and hues of blue but ultimately he didn't have anything navy in his wardrobe and it was a great colour to balance out most of his looks.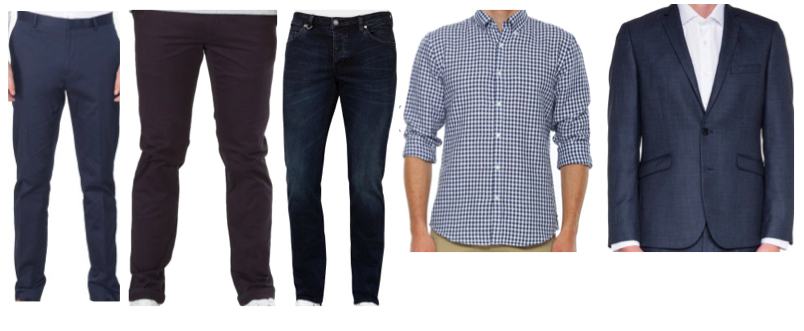 ---
From Dylan-
---
"Josephine has been amazing throughout the whole process. Her services were highly recommended to me and I needed help getting the right image as I just didn't have the time or energy as it all goes into growing my business. She has taken the time to really understand myself and the brand I am trying to represent. I didn't realise how important the right style can be towards the success of your business before this experience. I thoroughly enjoyed the experience and looking forward to showing off my new threads."
Dylan Salotti, Divitis Finance.