Who doesn't love denim? This unique fabric has pretty well never gone out of fashion in all the decades it's been in existence, and there's good reason for that. It's comfortable, goes with every colour of the rainbow and to top it all off it has an uncanny way of exuding that 'effortlessly stylish' look most of us are striving to achieve (while of course hoping we look like we haven't strived at all!).
The most fabulous incantation of all from the denim trend – which really isn't a trend because it is absolutely timeless – is of course, the trusty pair of jeans. No matter your shape, size or lifestyle, there are at least a handful of jeans to suit you and your personality. They are incredibly versatile and can be worn across such a spread of occasions, and that's why I often use them to create a base for my outift. When I want to be comfortable, but still look stylish, I start with jeans and build my outfit from there. This is an effective yet seamless way to create the smart casual look.
There are heaps of ways to build a smart casual outfit from the jeans, up. Start with a pair of jeans you're feeling in the mood to wear, and add a top, shoes, outer layers and accessories from there. With my looks below, I've stuck to a neutral palette which is particularly on trend at the moment, and also makes each outfit even more versatile, but you can go in any style direction that suits your mood!
CRISP AND COOL IN WHITE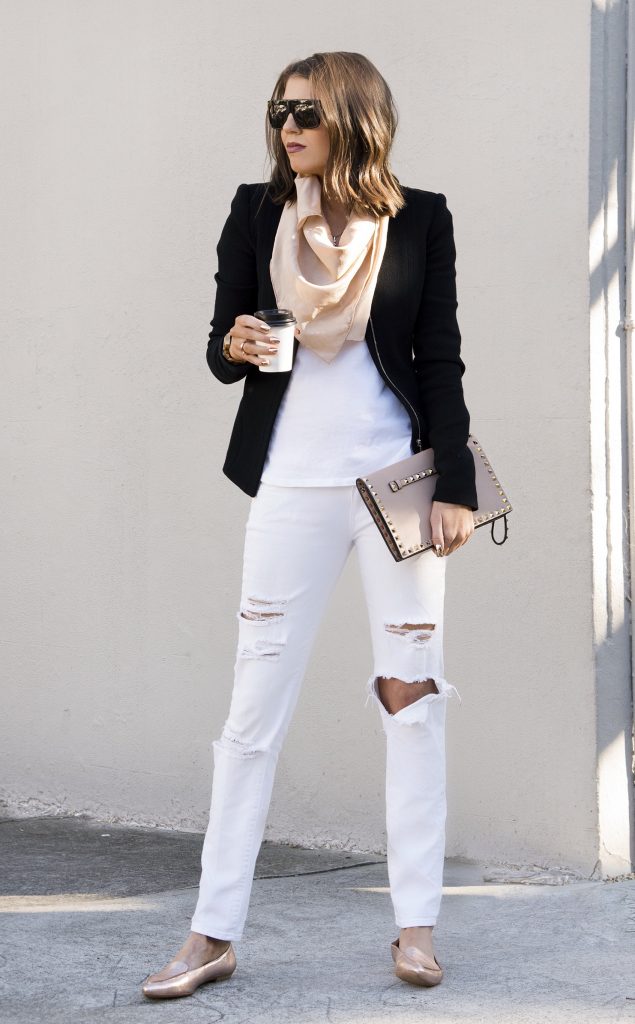 Paige denim jeans, Mollini Gyro flats
White jeans are great for adding a sense of freshness or crispness to an outfit. If you want to look a little edgier, these Paige denim jeans have just the right amount of rips in the denim to add that street style touch. I'm wearing my favourite rose gold Mollini flats with these to dress up the denim, and have referenced the same colour palette by adding a blush pink scarf and dusty pink clutch. The smart black jacket takes the outfit from 'cool and casual', to 'smart casual', which reminds me: a great tip to remember is when in doubt, add black!
PLAYING WITH CONTRASTING STYLES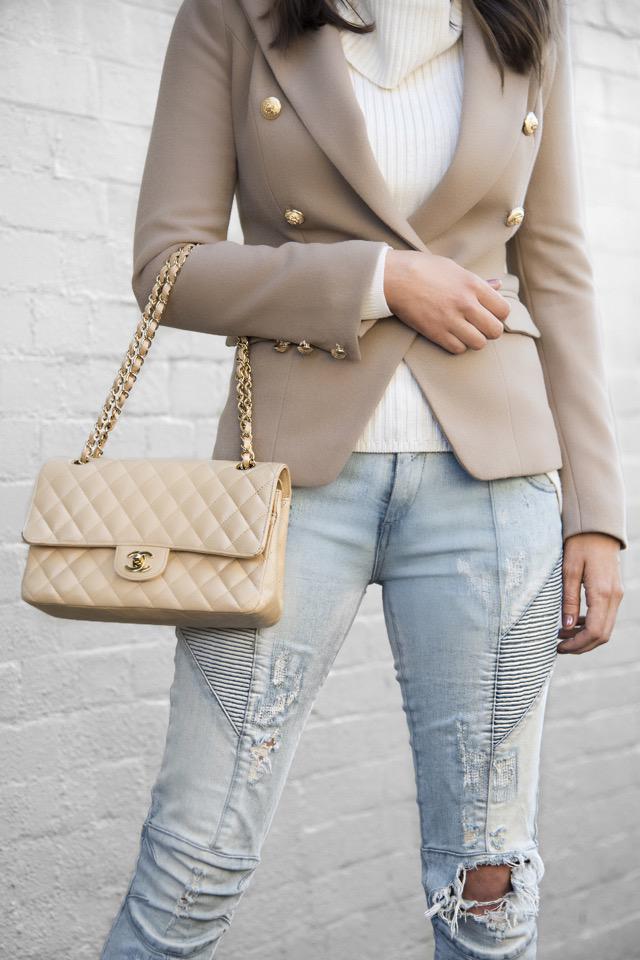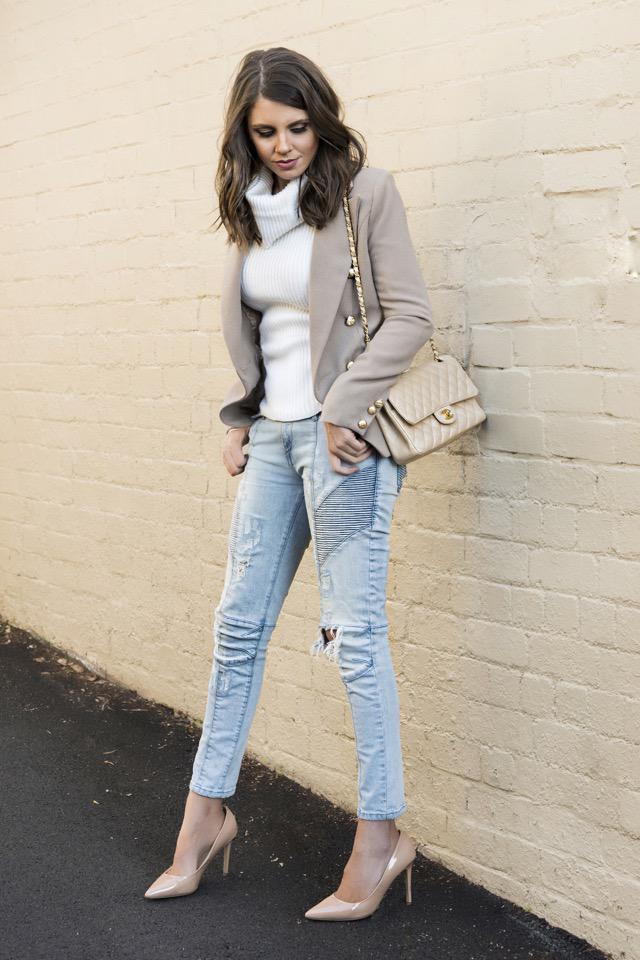 Pierre Balmain jeans, Lioness Official blazer, Karen Millen knit, Tony Bianco heels
When you want to amp up your street style, there's no better way to do it than by wearing distressed, ripped or washed out jeans. It's easy to make these Pierre Balmain jeans casual, but the trick in dressing them up is by adding a contrasting, more formal style in the way of your other garments. Neutral beige and cream always have a way of looking premium, and I've stuck to this theme in my outfit.
My Lioness Official blazer is double-breasted with gold detail, as is my handbag, which adds a dressier element, and the cream Karen Millen knit's roll neck adds a hint of sophistication and elegance. Wearing the grunge style with a classic style is an easy way to create an interesting look in your outfit, while putting you smack-bang in the 'smart casual' category of dressing, ready for your next daytime event.
FOCUS ON THE DETAIL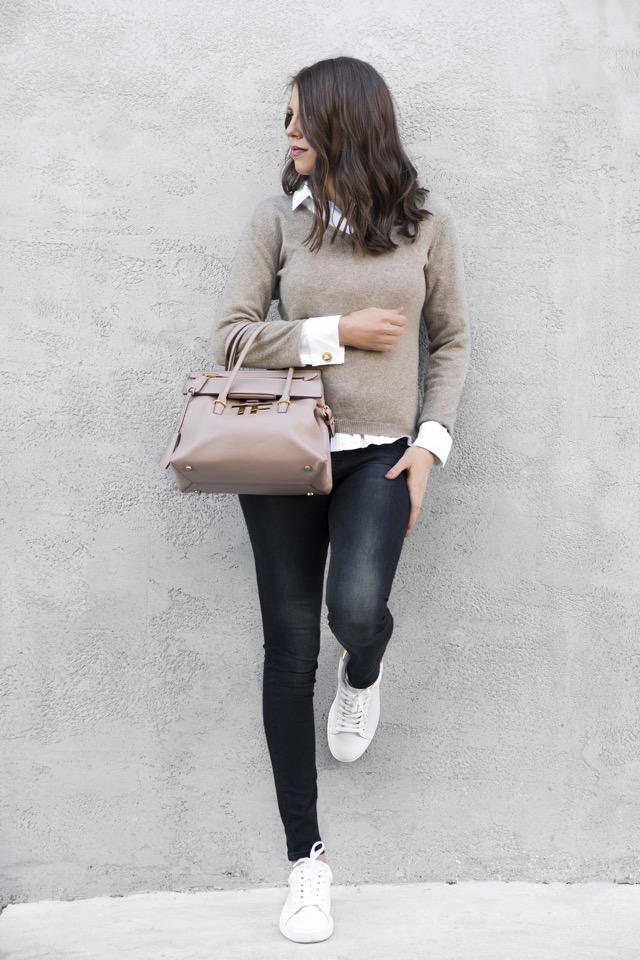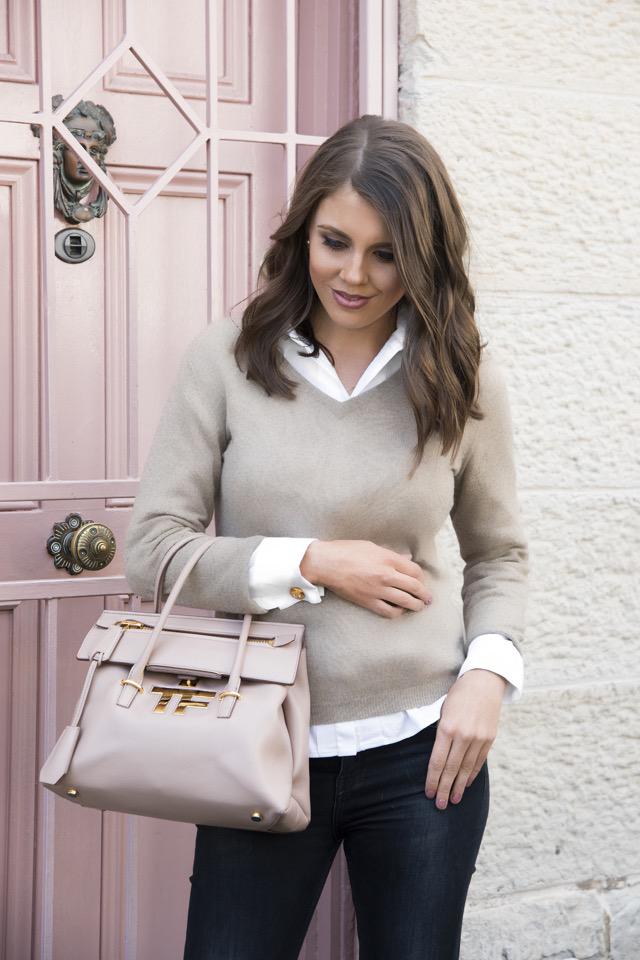 The key to building this look is the detail. While the outfit itself is fairly casual, my knit is high quality by Woolovers, and my bag is leather with the instantly dressier-looking gold detail. Sneakers are really on-trend at the moment (and comfortable!), making this a great daywear outfit, but you could usually swap them out for a heel or bootie if you're feeling in the mood for something a little dressier.
CLASSICALLY STYLISH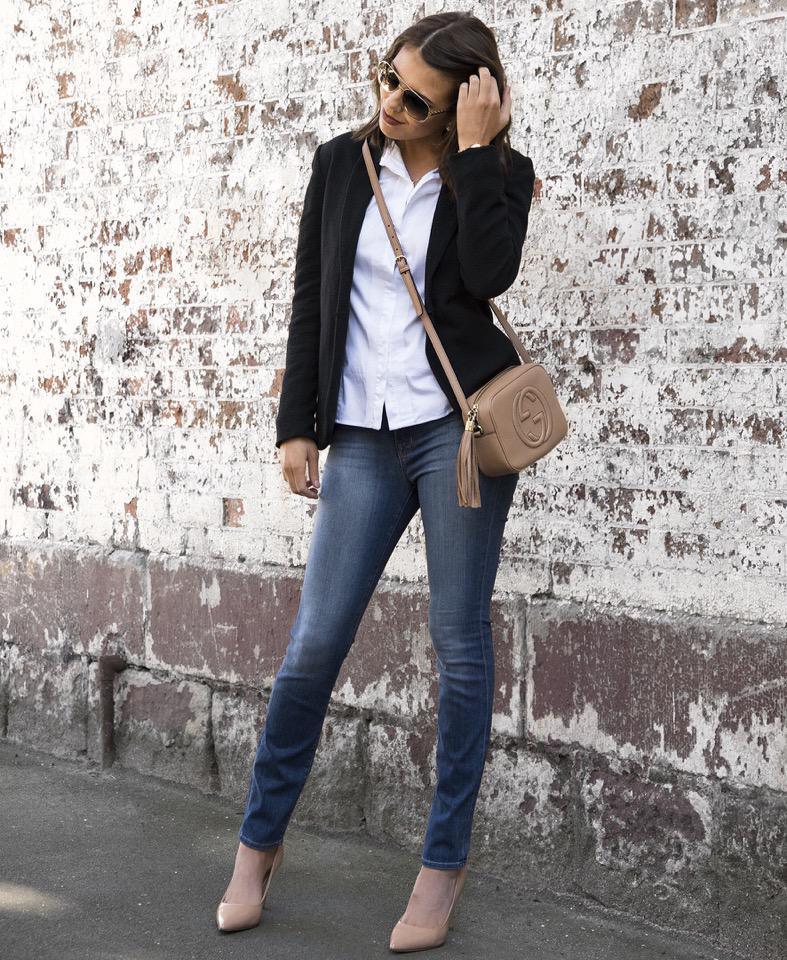 J Brand jeans, Graziela jacket
This is one of the easiest and most timeless smart casual outfits you can wear, and that's why it has stood the test of time. Skinny jeans, stiletto heels, a white crisp shirt and black blazer. It's instant power dressing, comfort and sex appeal all rolled into one, and it's an outfit that just about anyone can wear with confidence. The colour palette is again simple but effective – blue denim, black, white and beige – a combination that never dates and always wins in the fashion stakes.
And just to leave you with a little inspiration, here are Rosie, Khloe and Gigi all rocking denim in as stylish a way as possible!