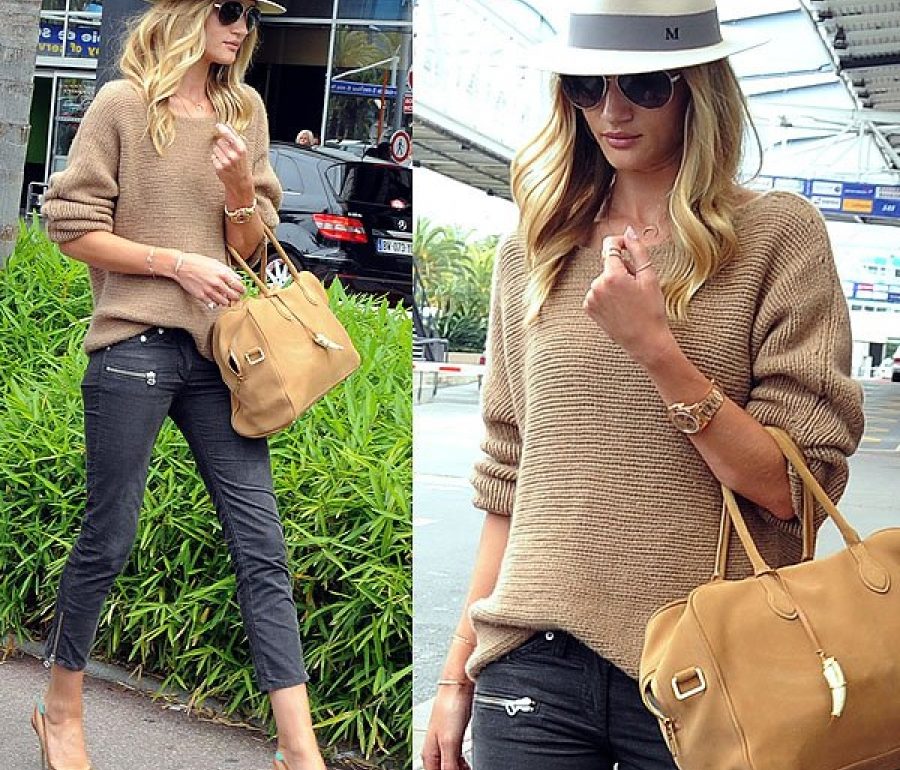 Flying: it can be a fashionista's worst nightmare. You're about to endure hours on an air-conditioned capsule in an upright position, potentially sitting next to strangers and eating previously vacuum-sealed meals from what resembles a hospital tray – the last thing you want is to add to your discomfort by wearing something, well, uncomfortable. "But can't I be comfortable and look stylish at the same time??", you say. "I've seen celebrities do it!" If you are planning on flying first class like said celebrities, looking fashionable while remaining comfy will be a breeze – but for the rest of us, we could all use a little help! That's why this week's blog is full of celebrity outfit hacks that will open your eyes to the fact that it IS possible to travel economy, feel so comfy you may as well be wearing your Peter Alexander PJs, and yes, STILL look stylish.
– Mid-rise jeans that sit above the hip-bone but below the waist in a relaxed denim with stretch are the go-to item of the A-list. Avoid tight denim to evade seam imprints, button flies that dig in and jeans that sit too low or too high – you don't want to spend the entire flight adjusting your outfit or feeling restricted.
– The oh-so-trendy relaxed, tapered-leg pant is your next lucky charm. This style of pant is everywhere currently and it won't be hard to find a pair you love, within your budget. They are as comfy as pyjama pants but look so very en-pointe and better yet, they can be easily dressed up with heels.
TAKE YOUR MAKEUP FOR LATER
---
Who wants to endure a 24-hour journey to Europe wearing a full face of makeup? As if the drying air conditioning wasn't enough, you don't need to block your pores while you're at it, too! We recommend heading onto the plane wearing a BB cream, a lick of waterproof mascara, and a tinted lip balm or moisturising lip stain. When it comes time to say goodnight, pull out your trusty packet of cleansing and makeup removing wipes so you can feel like you're at least doing one step in your usual beauty routine!
WEAR A RELAXED OR OVERSIZED JACKET
---
Every seasoned traveller knows the importance of wearing a comfortable jacket when they fly. We love how our fav celebs opt for an oversized version for added comfort and extra cool-factor when flying. There's just something about the oversized jacket that adds a certain je-ne-sais-quoi to any outfit…
WEAR CLOSED-IN SHOES AND TAKE YOUR HEELS IN YOUR CARRY-ON
---
This is a must for ladies who travel a lot for work! If you need to run straight to a meeting as soon as you get off that plane, you need to be prepared. We recommend:
– Taking advantage of the hot sneaker trend to look fabulous AND be comfortable in what is undoubtedly the most comfortable shoe you can wear.
– Ballet flats and boots (with a block heel, if you must) come a close second in the comfort-to-style ratio!
Then, when you're about to land, kick off your kicks, throw on a pair of heels and you're back to looking fabulous for your disembarkment!
LAYER UP
---
This is a tip that every celebrity loves utilising, and even though none of us need help from our outfits to hide our faces from the paparazzi, there's no denying that layering up is not only practical (warm and comfortable), but it also looks damn stylish. The best bit? It has that "I just threw this on" look which, let's face it, is what every woman is going for when they travel. Just don't forget the longer-than-your-legs scarf!
THE DESIGNER BAG IS ESSENTIAL
---
The designer bag seems to have a magical effect on any outfit. No matter how casual your outfit is, place a delicious designer bag next to it and hey presto: you're stylish! Take it from the celebs – if it wasn't for their $5000 bag, they might just look like regular people when they travel because their looks are generally low-key and totally accessible! Oh and don't worry, you don't have to spend thousands to get the same look – you can get beautiful bags by Michael Kors, See by Chloe and Marc by Marc Jacobs for under $500.