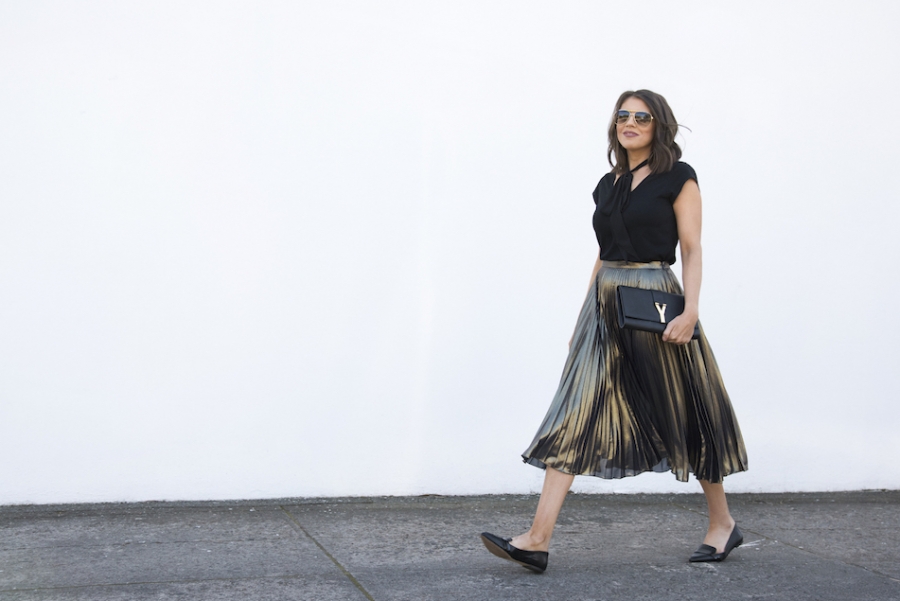 I love incorporating any metallic tone into my wardrobe, but for a personal favourite I can't go past the feminine beauty of rose gold. The popularity of rose gold and copper have taken off this year in both fashion and interior style due to it's wonderful ability to blend perfectly with both cool and warm skin tones, it's no wonder adding this pretty pop of colour to an outfit is a look that almost anyone can pull off!
When styling clients I find that rose gold is the ultimate metallic tone for those who don't particularly like or suit silver or gold.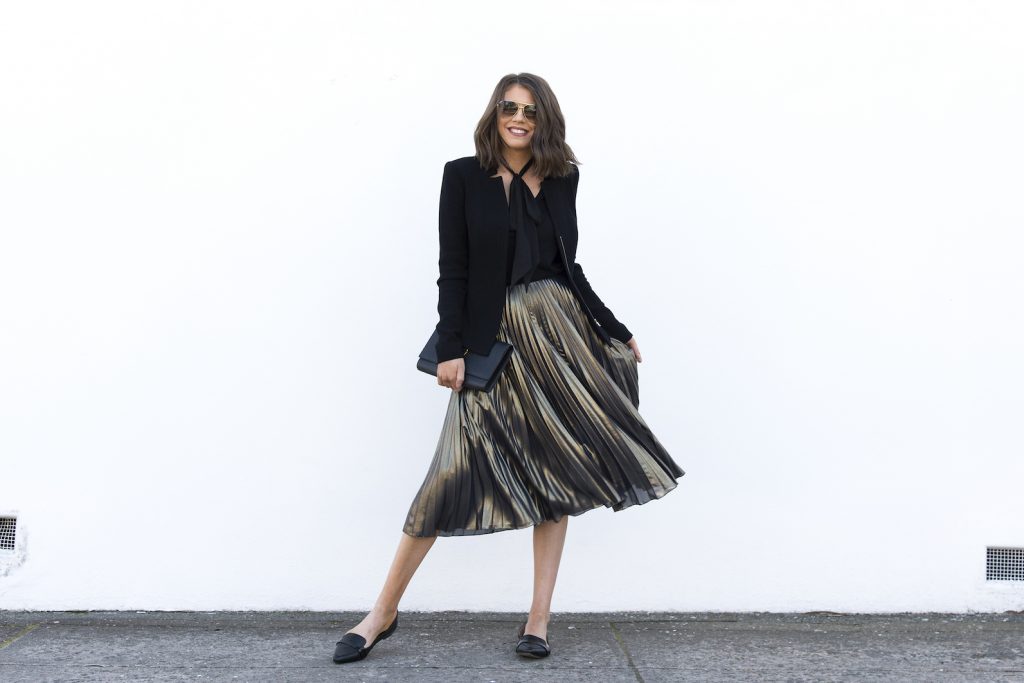 Here is some of my favourite inspiration and your weekly dose of style…
---
The Metallic Pleat Skirt-
---
A few months ago, I was working backstage dressing models at Mercedes Benz Fashion Weekend. I loved this experience as it gave me an opportunity to see all of the newest arrivals still to be released from some of fashions favourite Spring and Summer collections! Who doesn't love to be fashion forward and experiencing first hand the products and trends yet to be showcased in stores? Metallic was showcased as the attention grabbing addition to next season that outshone other upcoming trends. One of the main pieces that caught my eye was the metallic pleated midi skirts. Personally I tend to stick to pants, jeans or jumpsuits over skirts however I fell in LOVE with this romantic little number and it's stylish edginess!
If you shy away from bold colours and loud prints, then maybe its best to stick to a more minimalist approach to this trend such as accessorising.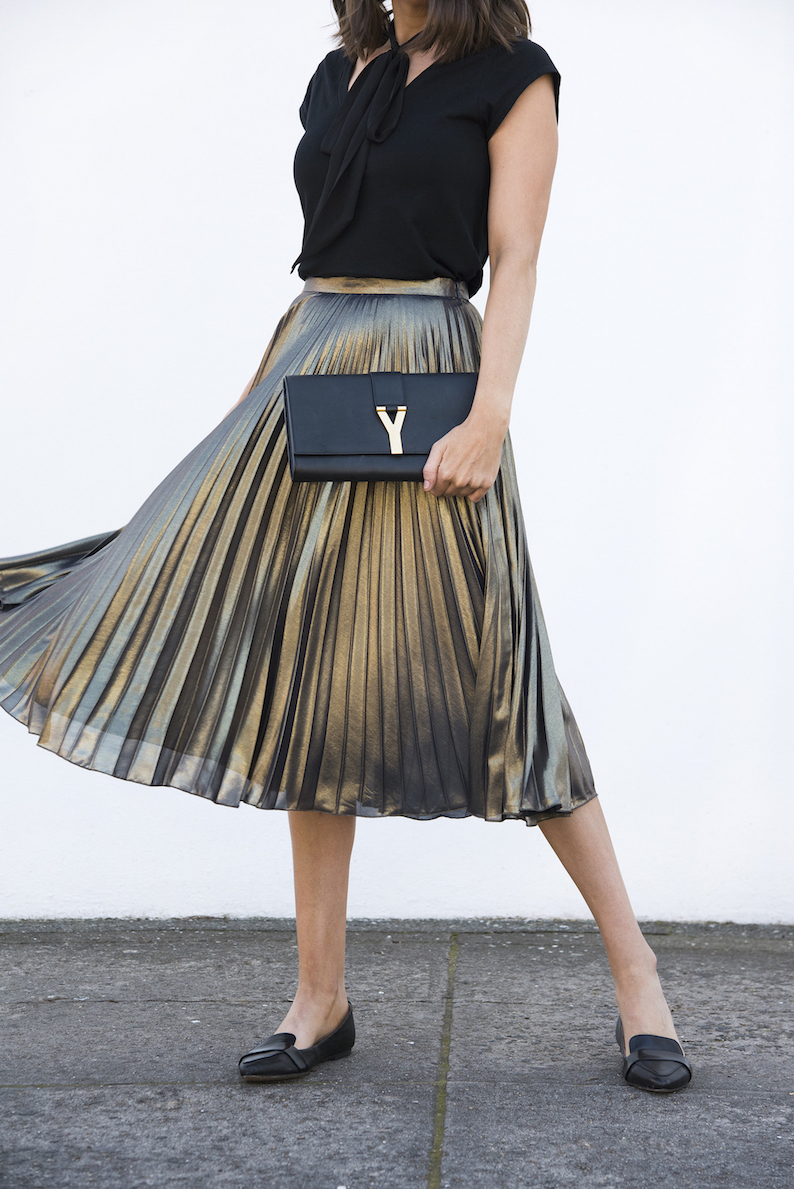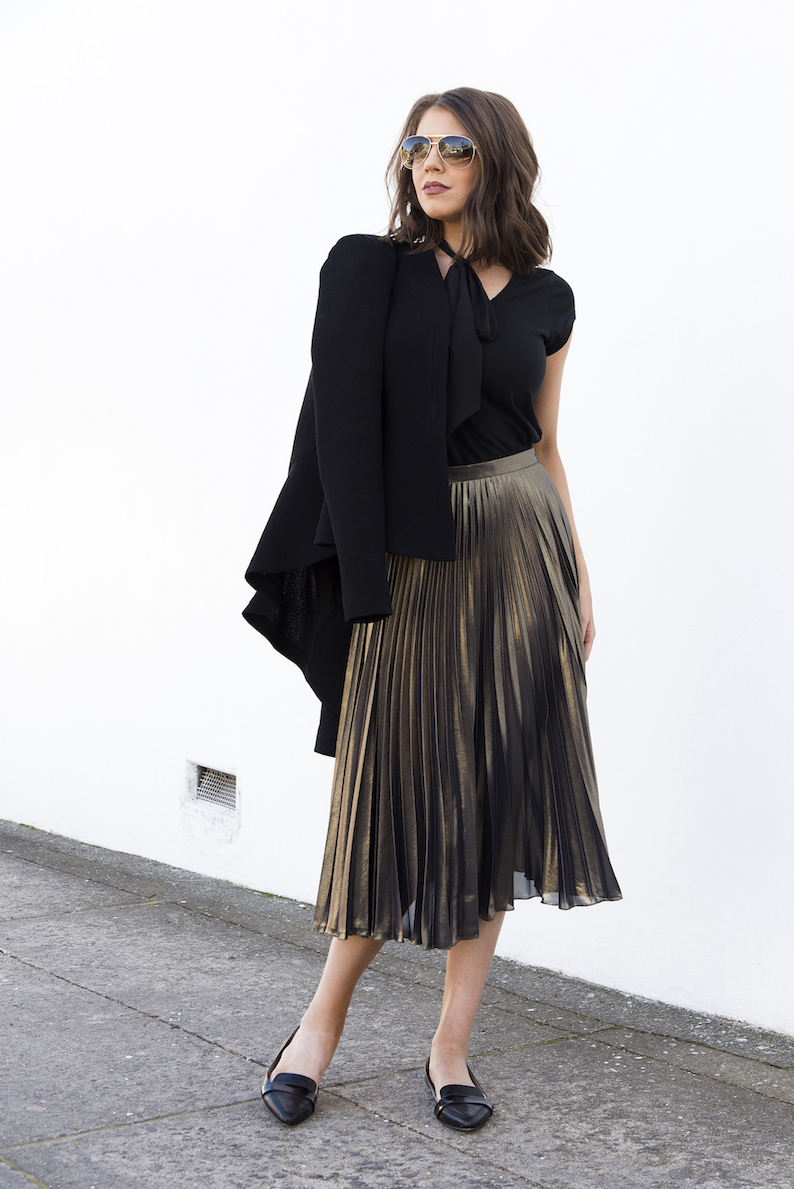 Above wearing Forever New 'Rose Pleated Metallic Midi Skirt' – $119.99
---
Metallic Shoes-
---
A good way to make this trend work for you is to add a pop of metallic on your feet. I'm personally loving these new Mollini 'Gyro' rose gold flats that I recently purchased at Wanted Shoes. They are super comfy and I can spend all day on my feet in these little gems.
I have had some wonderful feedback from clients who have recently purchased sneakers with a touch of metallic or the full gold or silver metallic sneaker. The perfect finishing touch when paired with jeans as a super cool relaxed statement look.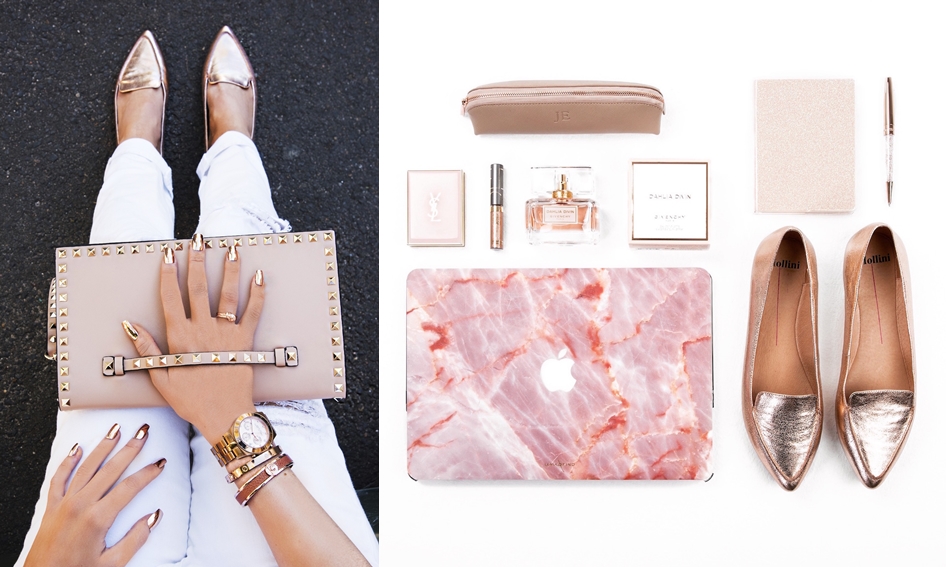 ---
Accessories-
---
If you're not sold on wearing bold metallic clothing OR shoes, then the use of an accessory can be very flaterring as it is quite minimalistic, yet still playful.
If you're loving this fashion statement but are not adventurous enough to wear a whole heap of metallic in your outfit then I would highly recommend investing a small amount of money in accessories first! See how the colour makes you feel and keep adding or experimenting with other pieces if you're loving the look.
I wore a set of the rose gold stick on nails (below) that I bought from sportsgirl the other day, only $10!? I find it really difficult to get my nails done as I always seem to chip or break them so these are quite nice if you just want to have pretty nails for a special occasion as they are easilly removed.
---
*Bonus DIY-
---
If you're someone who loves art, DIY projects and getting creative in the home then this is one is for you! I came across this product on social media and it's perfect for spray painting primed surfaces such as metal, wood, glass and plastic.
You can spray anything from; Candle Holders, Lamps, Indoor/Outdoor Chairs, Hangers, Placemats, even Gnomes!!! The list goes on..

Dulux Dura Max Bright Finish Spray in-Copper Rose, Gold or Silver -$19.90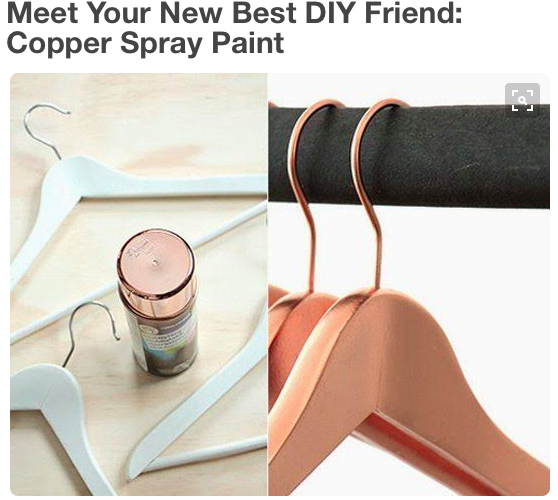 ---
Most of us like to feel part of something and search to find common interests that allow us to feel like we fit in. This can sometimes cause us to spend money on trends just because 'everyone else is wearing it'. This should never be the case! If you're an introvert and don't like to wear loud colours or bold prints, then don't buy into it or change your day to day style just because its 'cool' to wear it. I always encourage my clients to make a trend suit THEM! Start with a small accessory like jewellery, a clutch or a phone case and then if you are really loving the look and feel you can push the boundaries a little, buy bigger!