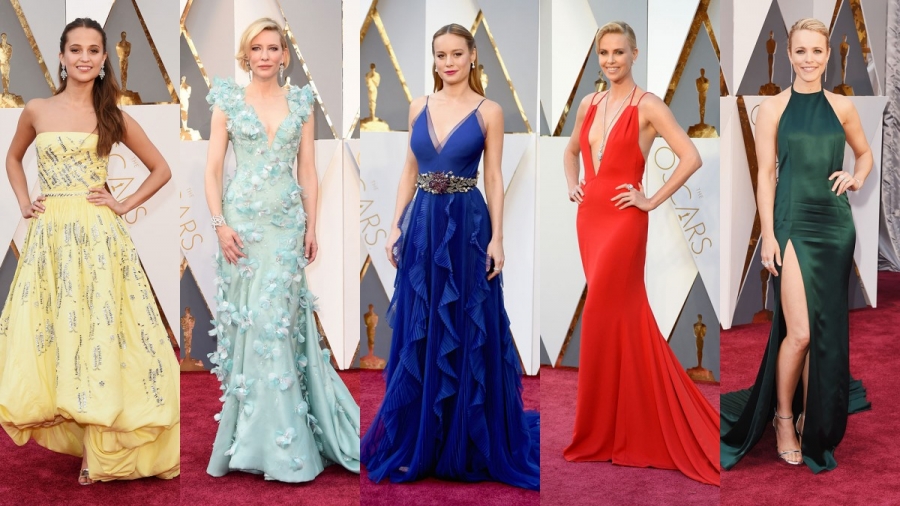 He did it! He won! Leo won! And the red carpet looks were to diiiiie for! Ok, clearly we are still buzzing from Monday's Oscars frenzy, but who can blame us? When we weren't rejoicing or crying over the winners and losers, we were in a daze of fashion envy as we watched celebrity after celebrity saunter their way down that scarlet carpet. There were some safe players this year, but there were also some absolutely stunning dresses. We saw a theme, too: sequins, off-the-shoulder, plunge necklines and the old Hollywood look from the 40s and 50s, So, of course, in the spirit of awards season, we bring you our favourite looks from the 2016 Academy Awards. Which look was your favourite?
---
Cate Blanchett in Armani Prive
---
Wow, wow, wow. Even if you don't like to wear super-feminine dresses yourself, you can't deny that this feather-adorned gown looks heavenly on Cate. The cut is as flattering as possible, the pastel hue is oh so on-trend and suits her complexion to a tee, while the floral embellishment is also another nod to one of the season's hottest trends.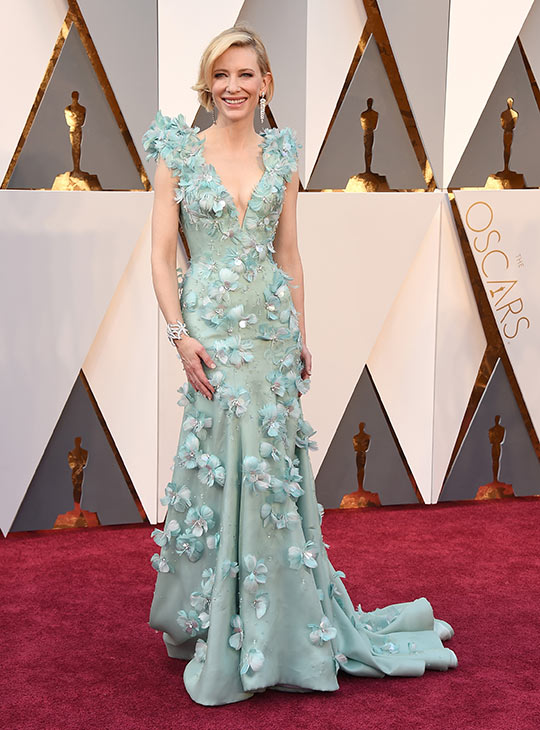 ---
Margot Robbie in Tom Ford
---
Another Australian beauty got plenty of attention on the red carpet, and it's no wonder with one look at how amazing this gold Tom Ford number looks on her. Metallics are still massive this season in fashion, and this warm hue works wonders on Margot's colouring. We love the gorgeous plunging neckline that shows just enough skin, while the shoulder pads create a gorgeous hourglass silhouette. Oh, and let's not forget THAT bag…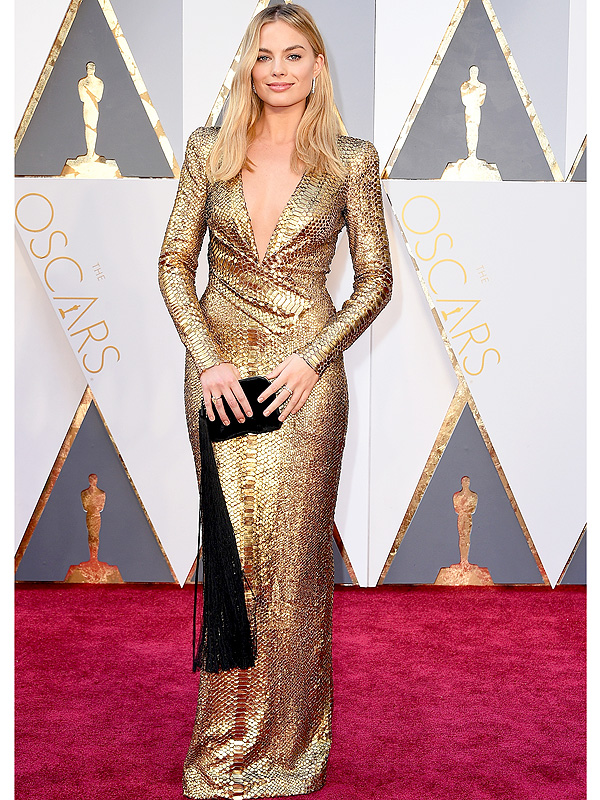 ---
Mindy Kaling in Elizabeth Kennedy
---
The 'Inside Out' star looked absolutely beautiful on the red carpet and her look was a stand-out for us this year. Not only does the Elizabeth Kennedy gown flatter her figure, it also has an interesting twist (the blue ribbon on the back), and above all looks elegant and sophisticated. Mindy also does a good job of reminding ladies everywhere that when you wear a boat neck or off the shoulder dress, it's a good idea to wear your hair up to do the neckline justice.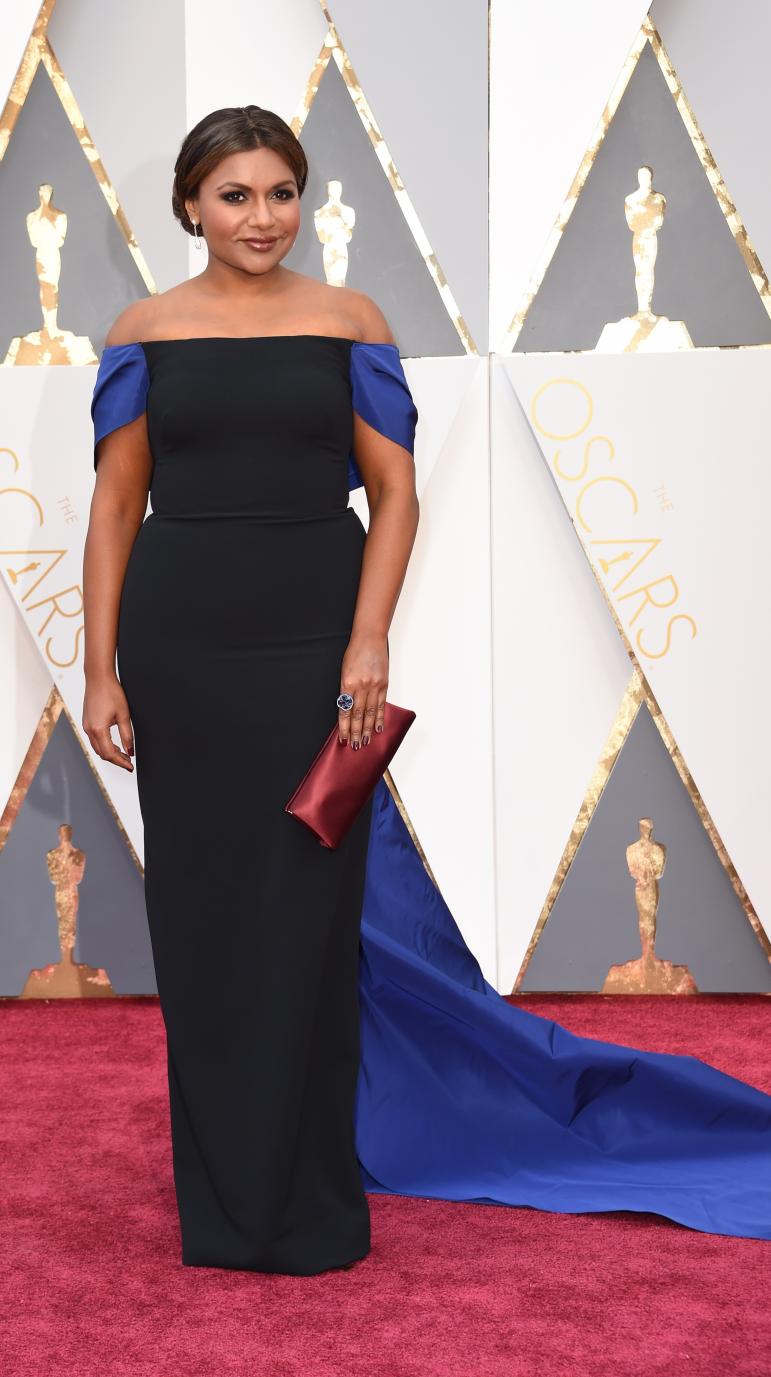 ---
Lady Gaga in Brandon Maxwell
---
In what is one of the best possible PR opportunities for a designer, Lady Gaga opted to wear designer/stylist and close friend, Brandon Maxwell's unique pant-suit / dress on the red carpet this year. No doubt, he will now be inundated with client requests and we think it's well deserved because there are so many things we love about this look. Firstly, the all-white palette is so en-pointe in 2016 that it can't be ignored, and secondly this must be the only time in the history of awards season that a woman has worn a pant suit and has still managed to look incredibly feminine and red carpet-appropriate. The train, sweetheart strapless neckline and hair style all allude to that old Hollywood glamour from yesteryear that will forever be glamorous and beautiful in our eyes.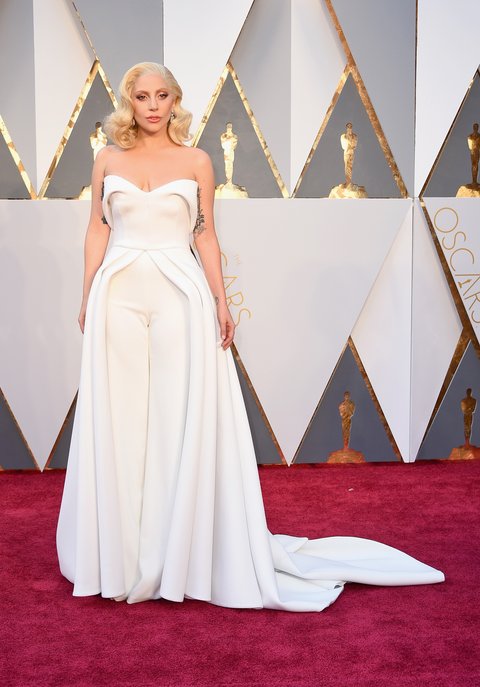 ---
Olivia Munn in Stella McCartney
---
Not too many people can pull off orange, but boy, Olivia Munn sure can. Wearing the queen of the cut and sleek sophistication: Stella McCartney, this tangerine, figure-skimming number has just the right amount of body-hugging appeal, and a unique and eye-catching neckline that we adore.
---
Jennifer Lawrence in Dior Haute Couture
---
J-Law wasn't the only one wearing lace this awards season, but she certainly got the most attention for it. This 'it' girl can't seem to put a foot wrong in either the fashion or film arenas, and this stunning Dior dress is the perfect example of her fashion finesse. We are seeing lots of plunging necklines this year but no one seems to be able to pull the look off quite like Jennifer Lawrence…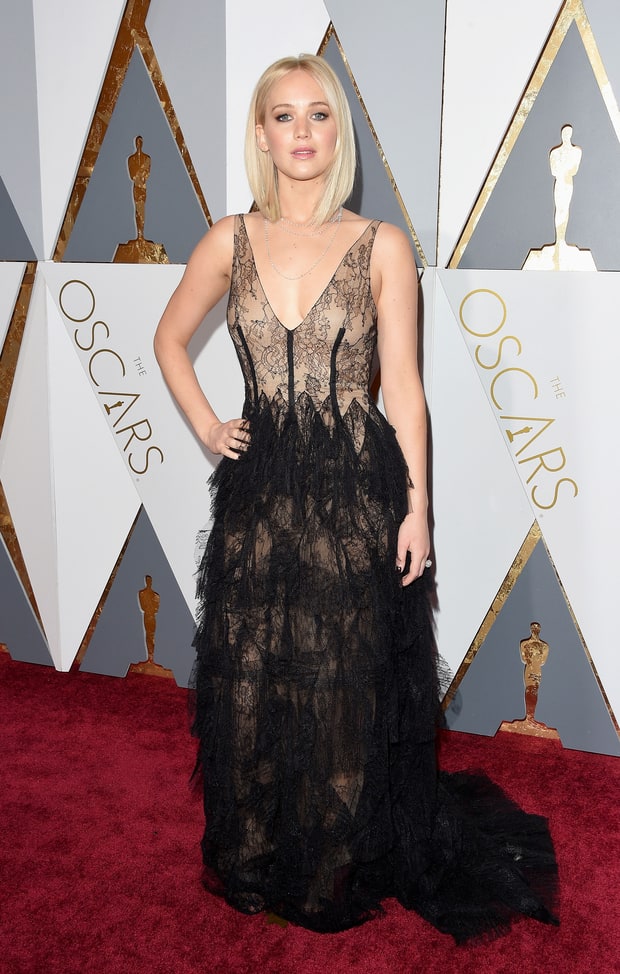 ---
Saoirse Ronan in Calvin Klein
---
This is by far the sexiest we have ever seen Saoirse. She's come a long way since she played a skinny 13-year-old in 'Atonement' back in 2007, and we love her fashion choice on the red carpet this year. Calvin Klein totally owns the sleek column-dress look, and the addition of emerald sequins and the stunning bare-back detail on this number make it an absolute winner in our eyes. And there's that plunging neckline, again!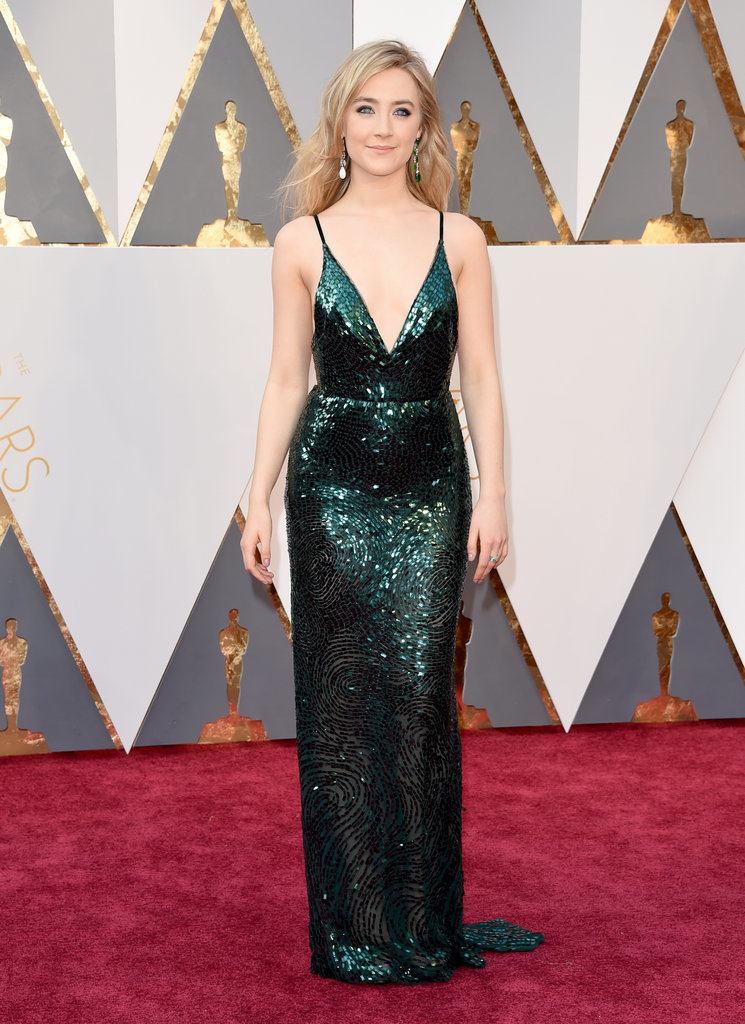 ---
Jennifer Garner in Atelier Versace
---
For a girl usually photographed wearing low-key, casual and understated fashion, she sure does scrub up well. We absolutely love this custom-made gown by Atelier Versace. The neckline and cut once again nod to the feminine dresses from the 50s, and it works a charm on Jennifer. With her athletic, column-shaped figure, this gown is ideal for creating feminine curves and a soft silhouette. The up do and simple jewellery are the perfect additions to this timeless number. Stunning!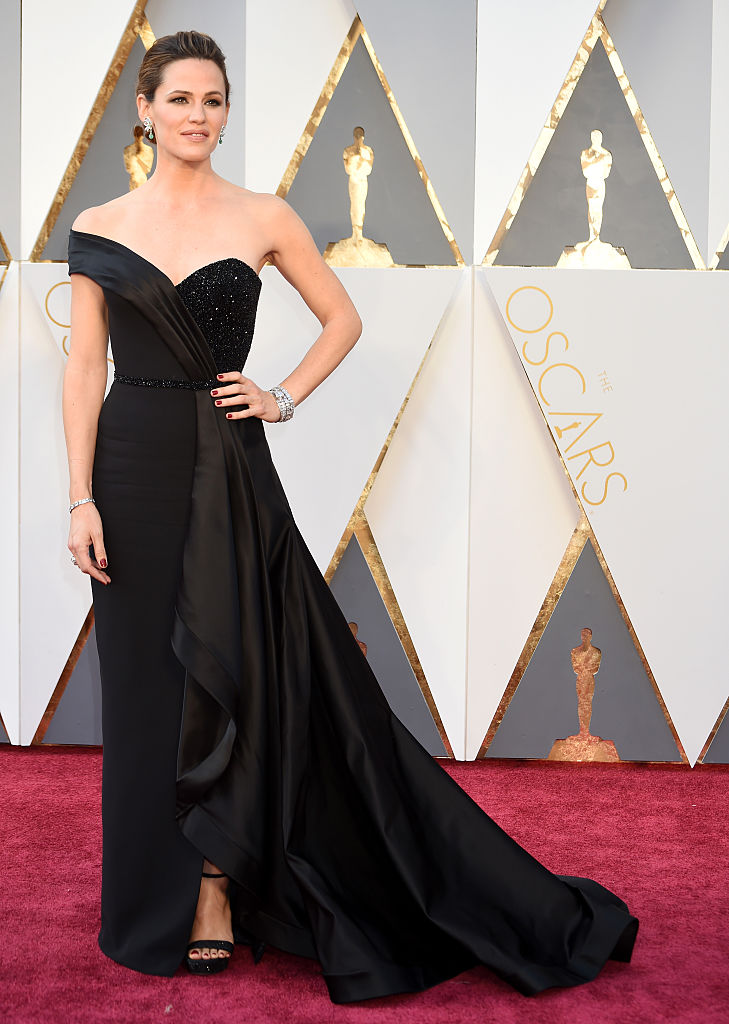 ---
Sofia Vergara in Marchesa
---
There's that sweetheart neckline again… and we LOVE it! Sofia is the queen of the figure-flattering dress, and this year's Oscars gown is no exception. The strapless style fits her like a glove, highlighting both her beautiful décolletage and tiny waist, while the ruffle and sequin detail add extra Tinsel Town glamour to this fail-safe look.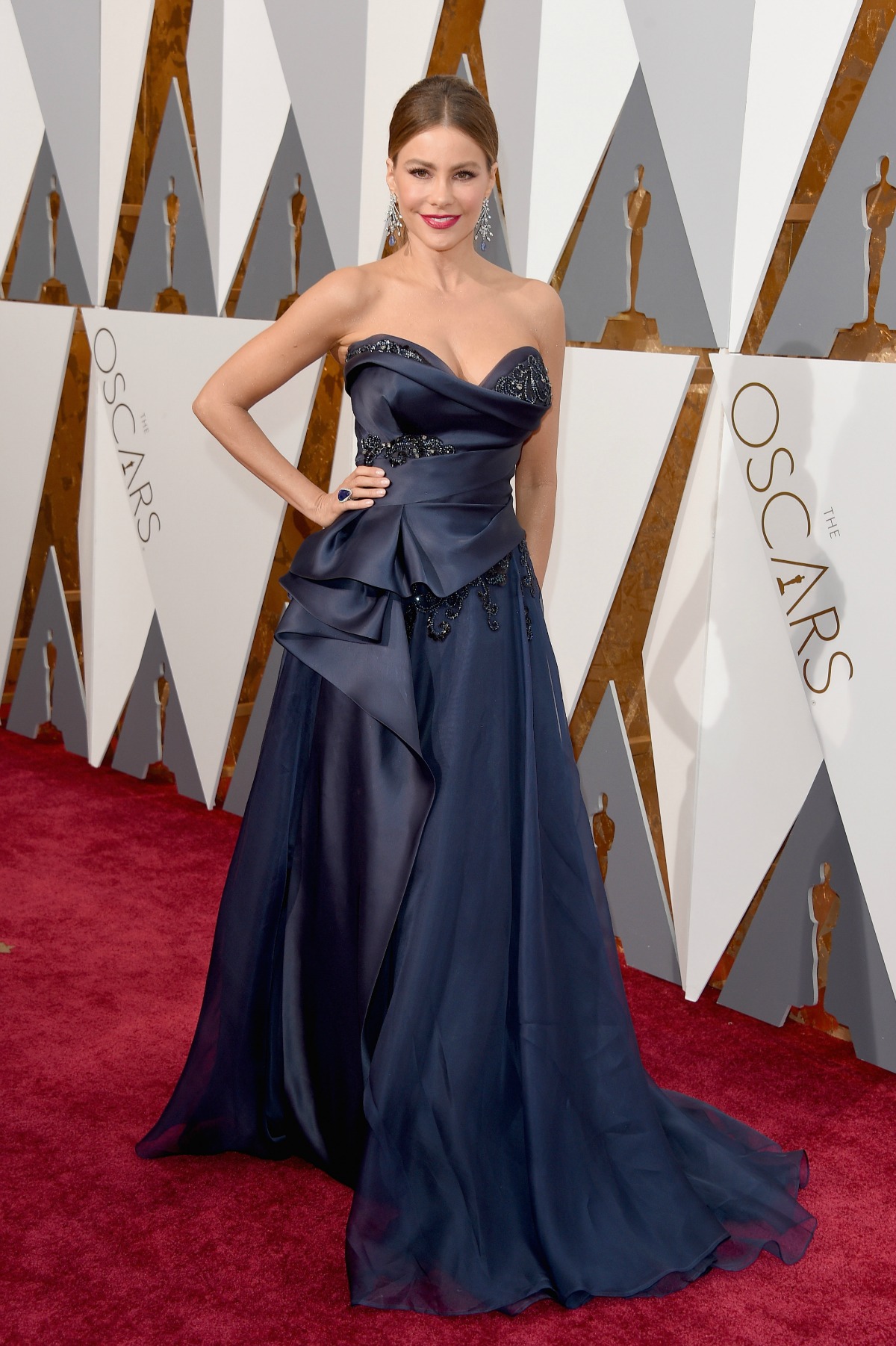 Got a fancy occasion coming up? Why not leave it to us to get you looking fabulous? We are available for special event or one-off styling! Contact us here.