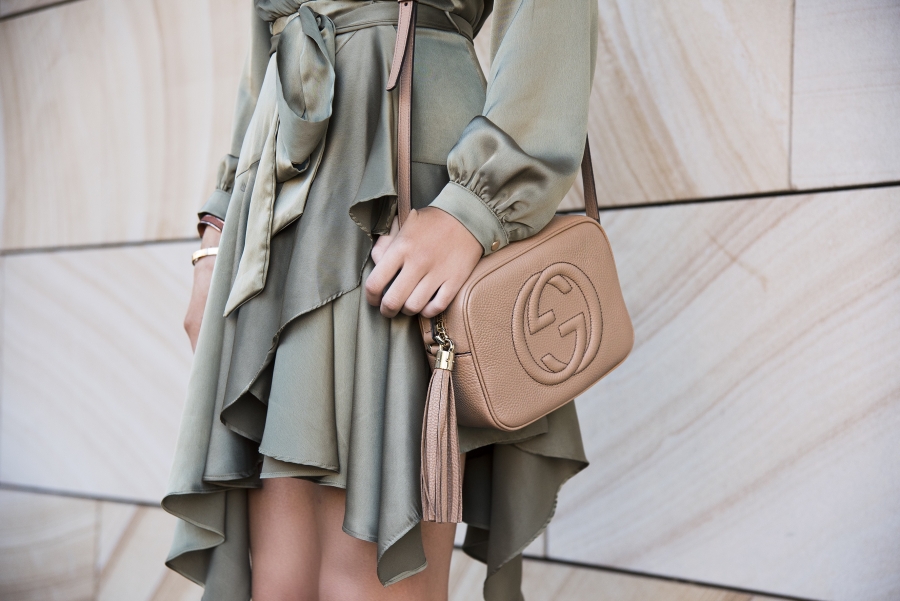 It's finally over! Those three months of breathing cold (visible) air and wearing layer upon layer have passed. And while I love winter clothing as much as the next fashion fiend, a change is in the air and summer is so close I can smell it. But in the meantime, it's springtime! One of the most beautiful seasons of the year in this country, and a time when retailers are going 'out with the old' of winter clothes, and heralding in the new, summer collections.
But there's just one problem. As much as I love that spaghetti strap dress or that pair of loose and breezy culottes in the shop window, I'm not quite ready to take the plunge and peel off all the layers. There is still a bit of a chill in the air, especially when you find yourself in the shade and away from those lovely warm rays, and this is where trans-seasonal fashion comes in…
Trans-seasonal fashions are those pieces in your wardrobe that you can wear for a good six months of the year, if not all year-round thanks to their versatility in both fabric weight, and style. The fact is, wearing a heavy coat in the middle of summer just looks wrong, as does wearing a pair of Havaianas in winter, and with trans-seasonal pieces, they cater in-between the two extremes of the seasons. Think: Lightweight, long-sleeved dresses or shirts, thin trench coats or maxi-length fabric skirts with splits. It's all about balancing the weight with the cut!
If you're not sure what items in your wardrobe are trans-seasonal or what to look for in the shops, keep in mind the below three spring trends that are especially hot right now…
1) Sexy, Sleek Silks
Ever since pyjamas – yes, pyjamas – became a trend last year, the idea has slowly evolved into another trend altogether – beautiful and wearable silk. Particularly 90's in its style, you'll find this luxe fabric scattered in stores in the form of cami's (silk, relaxed-fit, spaghetti-strap tops, often with a lace trim), wrap dresses (Zimmermann do a beautiful one), playsuits and even loose, bias-cut dresses. Silk is great for this time of year thanks to its beautiful softness and weight that will cut out the crispness of the air.
Above wearing- SHEIKE 'Rumours Dress'- $149.95  and  Senso 'Opal ' Lace Ups- $320
2) Super Seductive Suede
70s inspired suede is back, but this time with a lighter and softer feel. You'll see it in everything from skirts to that pair of pumps, and of course handbags. Along with suede, you'll see plenty of boho fringing that adds a fun feel to any outfit. Suede in colours other than black (such as 2016's hot neutrals) is ideal for spring trans-seasonal dressing, especially because suede is a fabric that tends to be a little warmer as well, so you'll find it spot on for the September-October period.
Above wearing- SHEIKE 'Vapour Skirt'- $129.95
SHEIKE Annaliese Top'- $89.95   and   Mollini Lace ups $199.95
3) Naturally Beautiful Neutrals
Neutral shades such as cream, white, grey, beige, khaki, sand and dusty pink have been one of 2016's most defining fashion trends. Retailers have favoured simplicity and understated hues that exude a sense of calm and balance over loud colours, and shoppers have been lapping up the trend as I have, loving the palette's versatility. Neutral shades are a great investment in your wardrobe because they quite simply go with just about everything. Subtle hues pack some punch when it comes to style but also manage to exude an effortless elegance.
Above wearing- Witchery 'Basic scoop tee' (sage) – $39.95
Paige 'Verdugo Ankle mid rise Jeans'- $379  and Witchery 'Liam' Sneakers- $129.95
For some springtime, trans-seasonal inspiration, check out the celebrity fashion gallery below!