Thank you for signing up body shape
'Woohoo! You're on your way to creating your dream wardrobe!'



Your Freebie is being sent straight to your inbox right now.
(Make sure you check your spam folder too).
One more thing…'
Want an easier way of creating your outfits for your shape every day?
Introducing my #1 Styling Method: How to Dress For Your Body Shape
My gift to you!
NOW JUST $37 USUALLY $60
The ultimate guide to understand which body shape you are, as well. as how to put outfits together for your body shape, outfit recipes, guides + more…
Learn how to flatter your shape every single day and never have to question your shape again.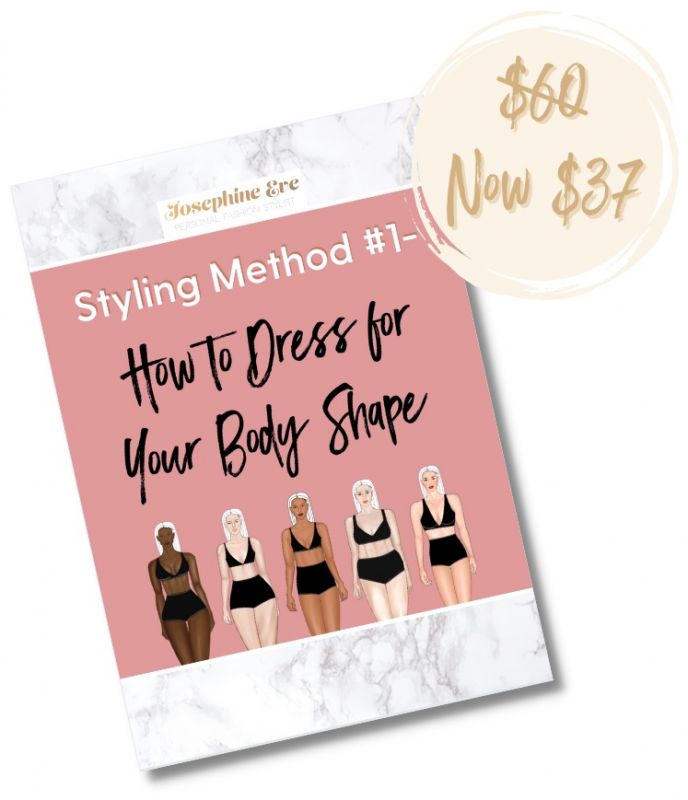 Ever wondered if there was a logical way to put your outfits together for your shape with a process that actually WORKS without having to be an expert stylist?
Does this Sound Familiar?

You struggle with putting your outfits together and never know what to wear

You're wearing only 20% of your wardrobe 80% of the time

You find it difficult to put outfits together that look effortlessly stylish for your shape

You don't know what outfits or styles work for your body shape and leaves you feeling frumpy in all of your limited outfit options
If this sounds like you, don't worry you're not alone and you've come to the right place!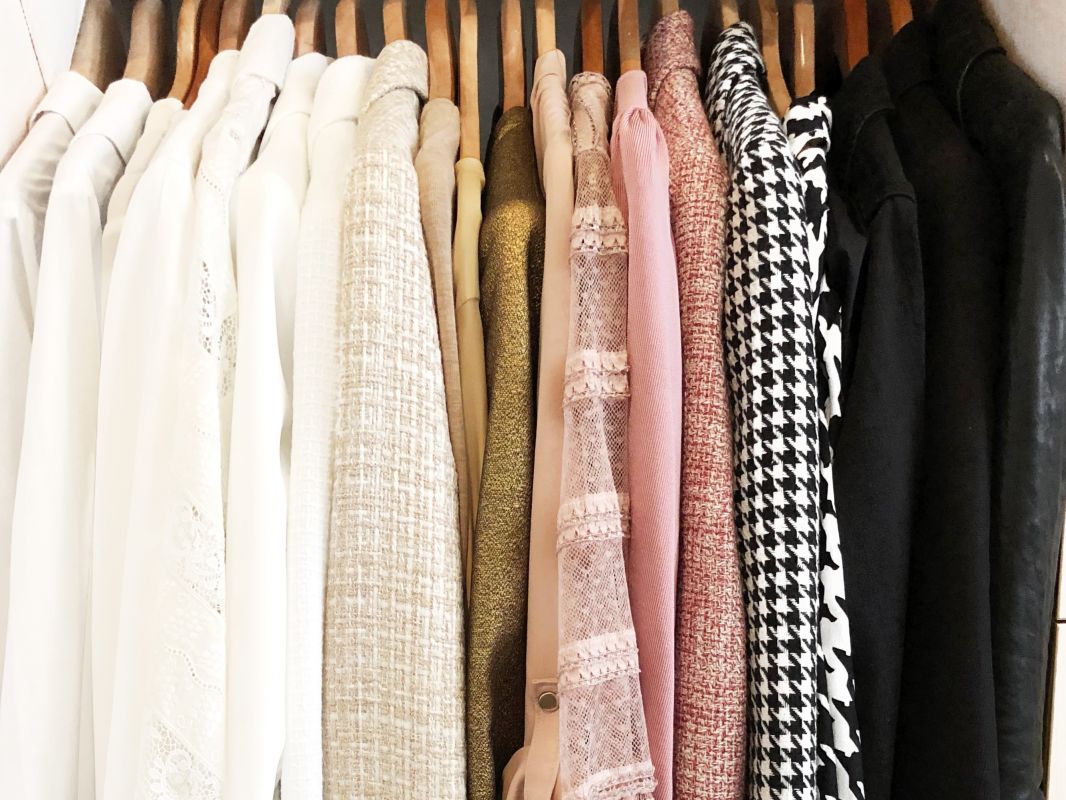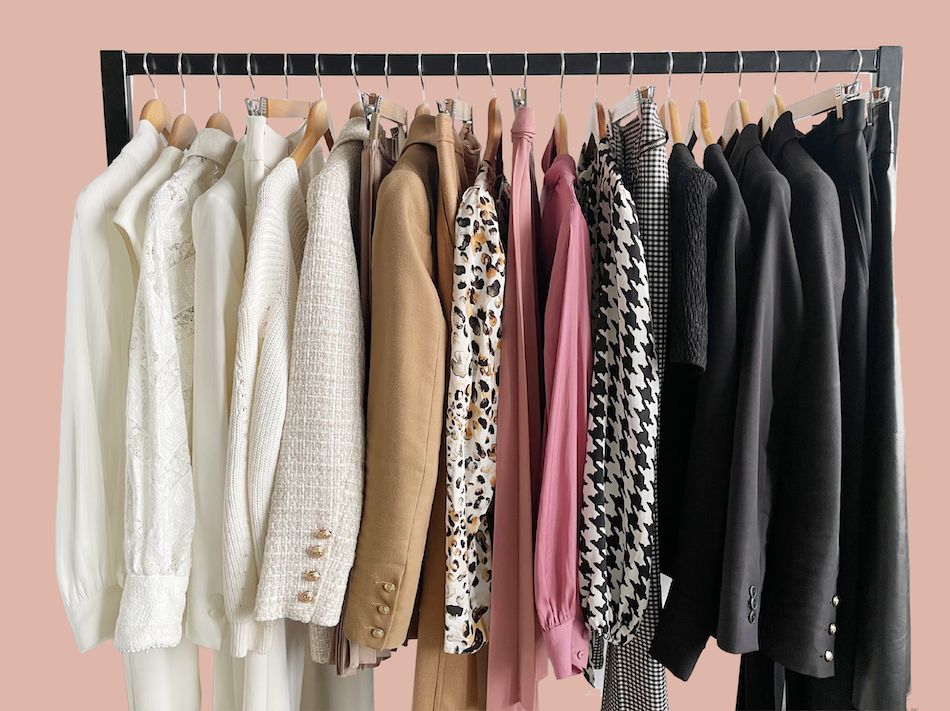 Imagine if you...

Knew exactly what to wear each morning so you didn't have to try on a million different pieces to find something to wear

Were clear on what pieces to buy so you have direction & a strategy when you shop

Knew how to style your body shape with confidence and how to create the right illusions

Could feel better about your body in the right outfits, instead of hiding away in clothing that makes you feel 'crap'

Had compliments on your outfits every single day because you just look effortlessly stylish for every occasion.
Well you can, and I have the right methods to give you exactly that and more!
All for just $37!
WHAT'S INCLUDED?
Do you want to know all the insider styling tips to create effortless outfits just for you?
I've packaged up 8+ years of insider body shape styling tips and created the Styling Method #1 How to Dress for your Body Shape guide.
Within it you'll get access to my signature 'body shape styling method', which when applied together, will help transform your confidence & nail your outfits for your body shape every time. And help you to avoid those disastrous wardrobe fails, which everyone dreads.
What you'll learn inside my brand-new Styling Method #1: Dress for Your Body Shape Guide:
What you get?

 Jam packed with tips, ideas, inspiration, and worksheets so you can nail your outfits for your body shape

 Learn how to work out your body shape (there are measurements and calculations in this)

Life long knowledge on how to flatter your shape no matter how much it fluctuates or changes over time

 Know exactly how to enhance your features and feel more confident about your shape than ever before

 Learn my simple yet effective illusion techniques to create slimming effects and different silhouettes with clothing styles and accessories.

 The guide is downloadable as an online password encrypted pdf file.

 42 pages of value packed content to give you inspiration to help you flatter your shape year round.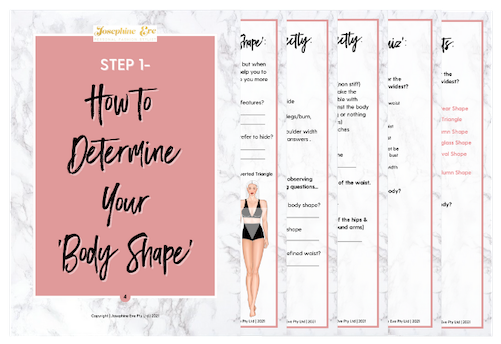 Step 1: How to Determine Your Shape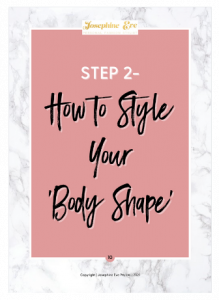 Step 2: How to Style Your Body Shape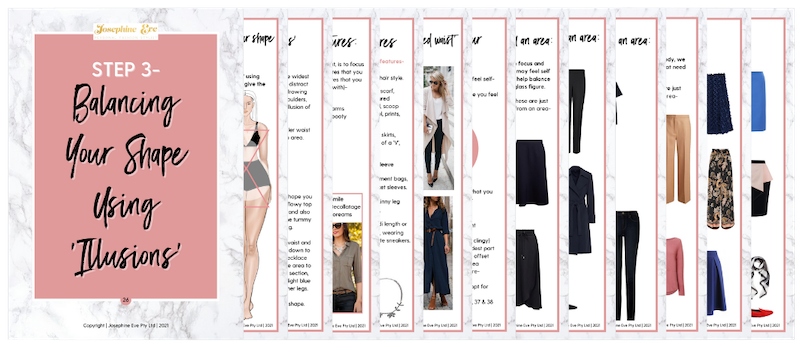 Step 3: How to Balance Your Body Shape Using Illusions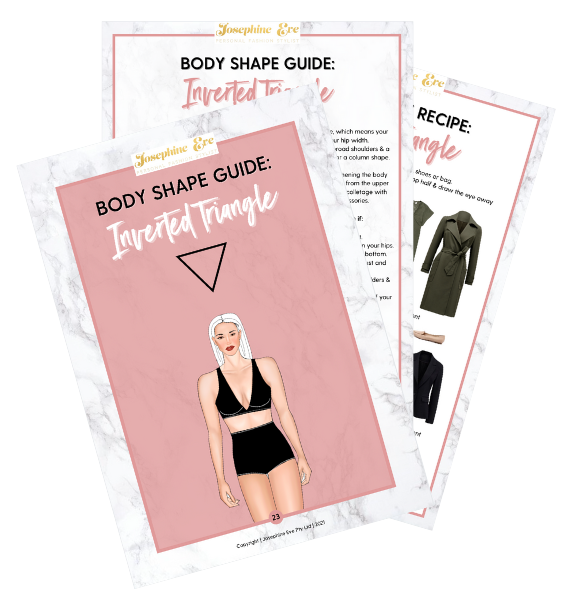 Inverted Triangle Body Shape Guide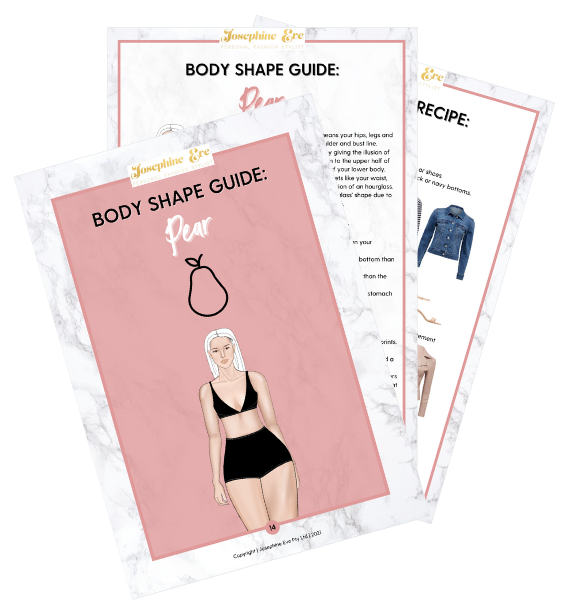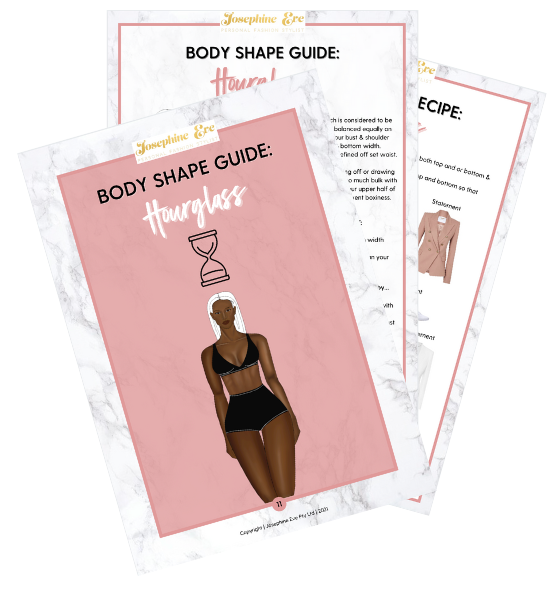 Hourglass Body Shape Guide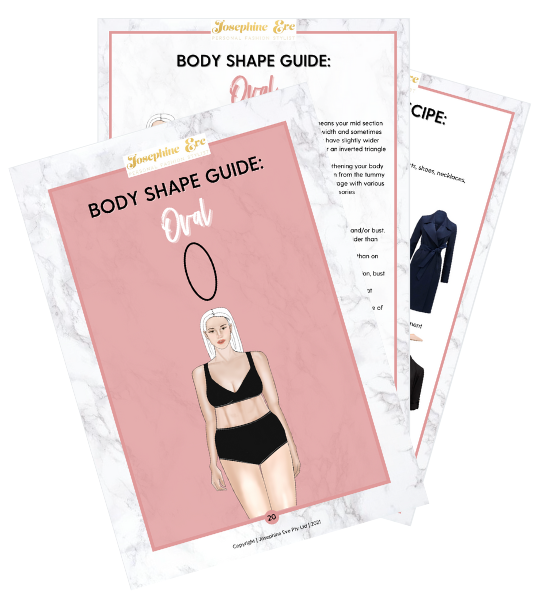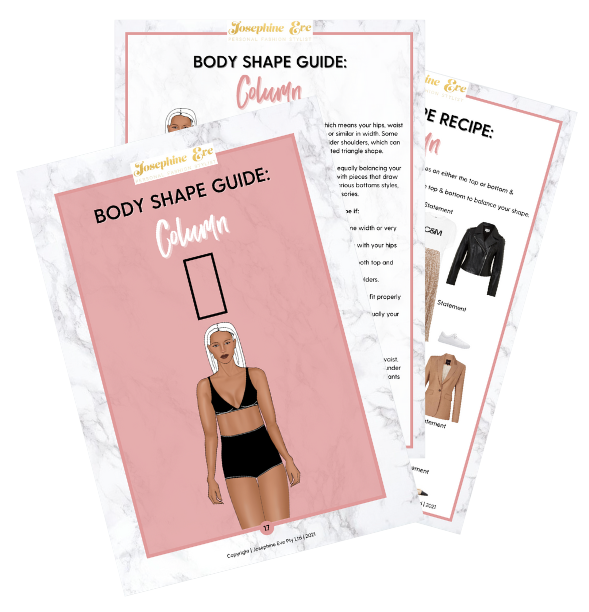 Plus More!
Meet Josephine Eve, the Creator of the Styling Methods!
Every person on the planet has at some stage struggled with their confidence. Men. Women. Even me.
Growing up, I struggled with body image and confidence. As a shy introvert I created a hard shell because I never believed anyone would accept me for me – a kind, shy, fun-loving girl.
That was until I embarked on a mission of self-discovery.
For 8 years, I've worked as a personal stylist and started out working with celebrities, and whilst I loved it, my heart has always felt fullest helping mums and corporate women … from the inside out and where it truly matters most…
With their confidence and empowerment through personal style
It's so true that when you look good, you feel amazing.

Like you, I wanted to be confident, and happy with my body and own my style!
Which is why today, I'm living out my true purpose and that is to help you feel confident in yourself every day… in the way you dress… knowing that you are enough and in helping you to embrace every bit of your body.
I created these guides with the intention of being able to help more than just my 1-1 styling clients. I want to be able to educate the everyday woman on how to style your outfits quick and easy without all the hassle. Having simple and easy go-to solutions like my guides will help you to focus on the more important things in life.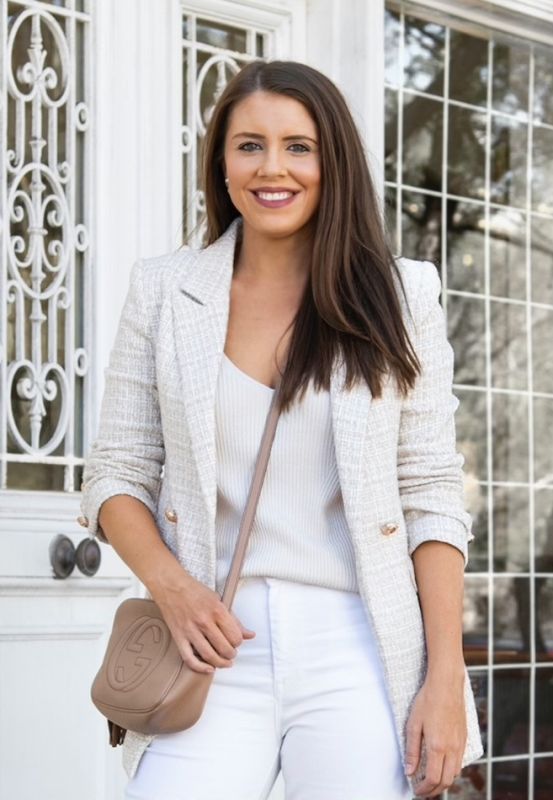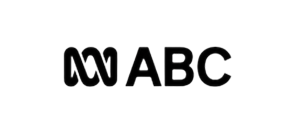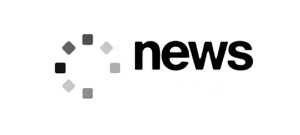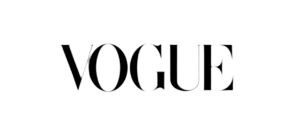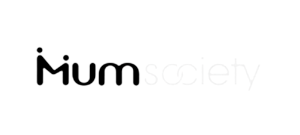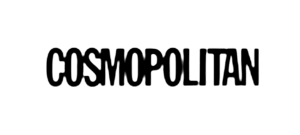 Here is what people are saying...
Natalie Sullivan | 

"What a wealth of knowledge Josephine is and how incredible it is to receive that. She takes you through a step by step process of how to work out your body shape, and then guided you through learning the best way to dress for your shape. The confidence I have gained from this is incredible. I feel like I actually know what works for my body now. Rather then fumbling around trying to work out what works for me and never being happy with my outfits, I feel confident to make the right decisions for me."
Tash Delphin |

"Josephine's Styling Methods bundle is so informative! She provides the details that have given me the confidence to find and develop my own unique style by understanding my body shape and she gives great examples in each style guide. Each guide is easy to understand and helps me to create the right outfits for occasions that used to make me fret – like smart casual for work – these are a breeze now that I know how to put the right elements together! And the best part, I can always come back to use the information from the guides anytime I need some styling help."
Julie |

"This was an eye opening read! I found the structure and flow method very fascinating and game changing for me as I struggle with getting the right balance with my outfits on a daily basis so I tend to wear only a few outfits on rotation. I'm so looking forward to playing with my outfits using this method, it's given me a whole new perspective."