About

Josephine Eve is a Sydney based personal fashion stylist known for focusing on versatile, timeless looks that are a mix of investment pieces and affordable mass brands. Josephine Eve understands that her clients require stylish looks that don't date and has developed a unique approach to sourcing and styling such looks.
With formal training in personal styling, celebrity styling and wardrobe styling, Josephine's diverse fashion education and commercial styling experiences has led to an ever-growing, vast portfolio. Her CV boasts on demand personal styling clientele, as well as collaborations with fashion brands, styling editorials for magazine and dressing Australian talent for red carpet appearances.
Whether it's a one-on-one styling consultation, personal shopping or sourcing outfits for media styling, Josephine produces modern, stylish curated looks, tailored to her clients' specific needs.
She is the first to admit that an initial crush on fashion as a young girl led to a full-blown love affair by the time she was in her 20s, and her growing success as a stylist in Sydney can be attributed to this passion, combined with her credentials and a natural eye for detail.
Her personal brand melds quality, luxe for less style with chic up-to-date fashion, while her empathetic and confident nature means that clients from all walks of life feel at ease and inspired in her sessions. It only takes a few minutes in Josephine's company to learn that a sense of style is within reach of every single person, no matter what their budget.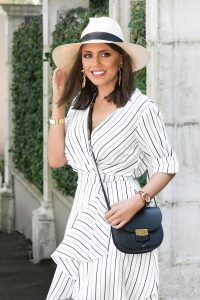 "My approach is based on the principle that we all deserve to have a comfortable yet effortlessly stylish wardrobe that ultimately compliments the underlying true beauty in each and every one of my clients . I aim to define my clients style to their style personality, lifestyle, colour palette and body shape in mind.  I love teaching my clients the tools required to not only shop effectively, but to also put outfits together with confidence."