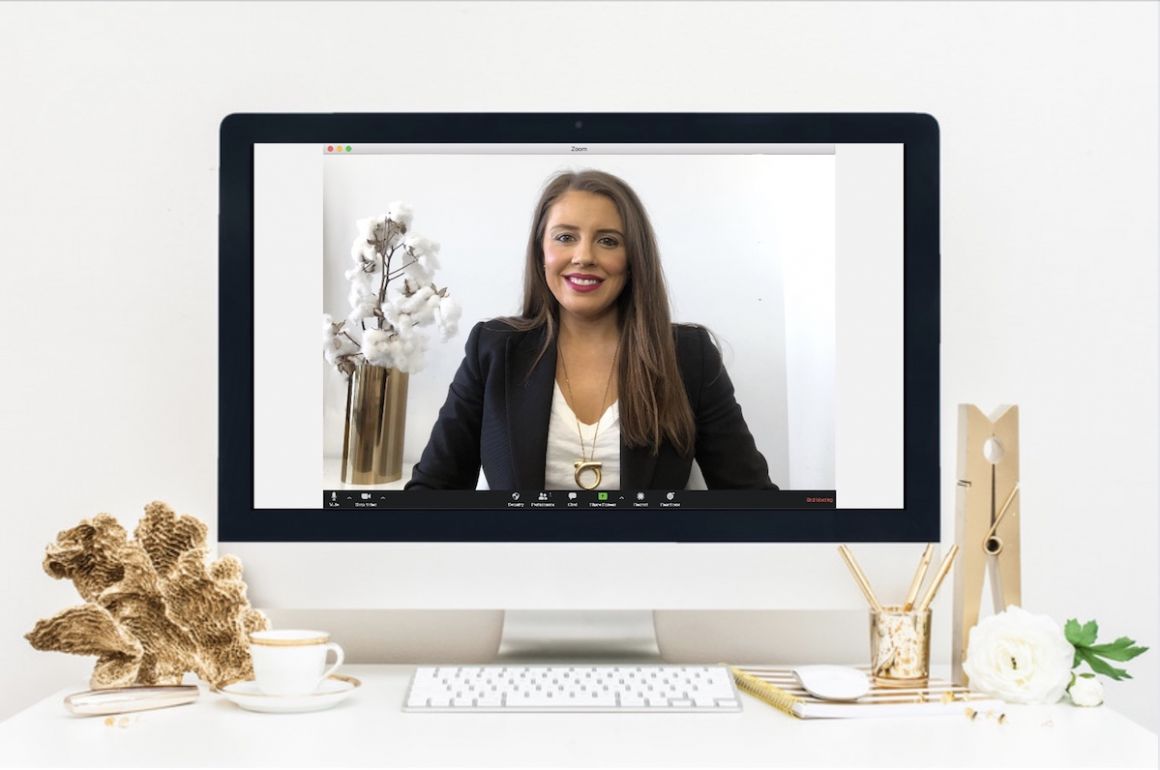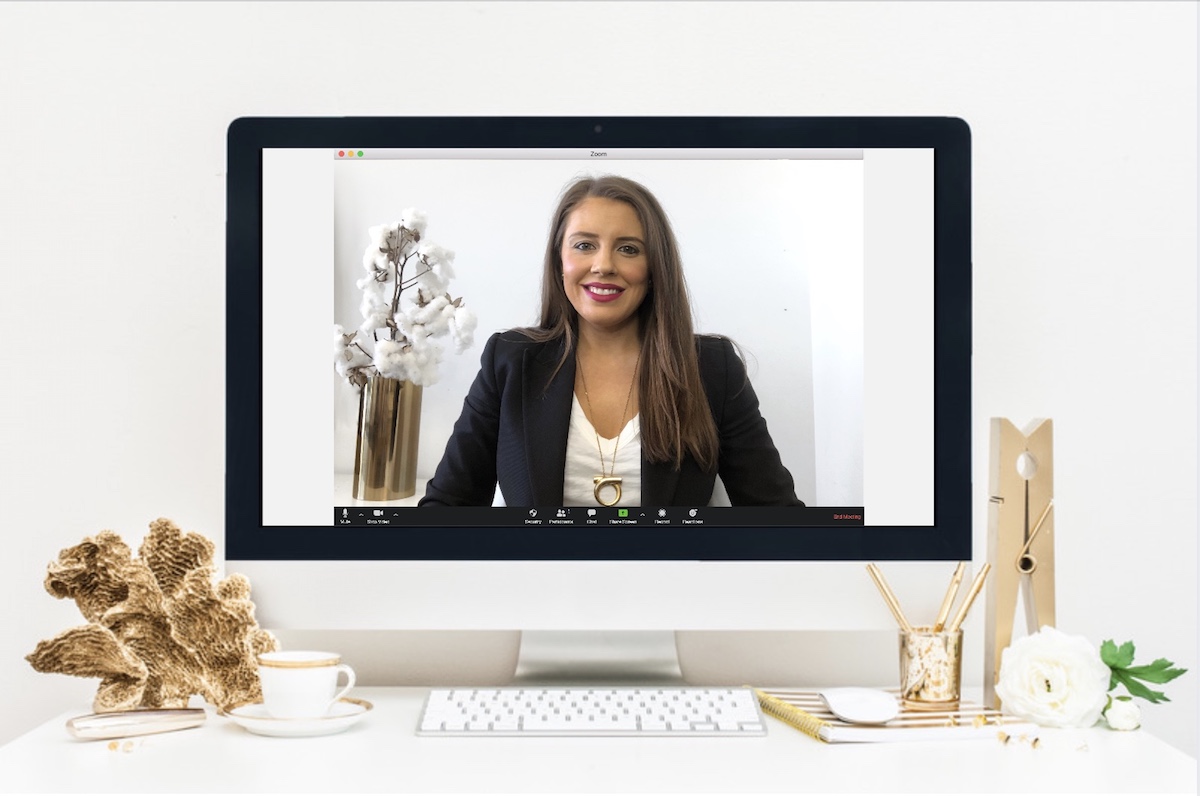 The Corona Virus times are vastly changing the way we work, but also the way we show up (or not show up?) considering that the vast majority of businesses are WFH (working from home), and a lot of employees and potential employee's are scheduling online Skype/Zoom meetings to go about business.
It almost feels too good to just stay in your trackie's or PJ's all day in isolation and not have to get 'ready' or 'dressed up' for that online meeting, but at the end of the day, you need to show respect for yourself, the business/employer, colleagues and to bring about some excitement to your 'new normal' loungewear.
I realised a lot of people are stumped on this topic of 'What do I wear to a meeting online in during isolation, without having to wear a suit or PJ's?'
At the end of the day, you want to leave your colleagues/clients/prospects feeling excited to work with you and to wear clothes that best represent the real YOU… Now you probably aren't super enthused by the thought of paying any attention to image or style right now as it's not an absolute essential, but it absolutely does impact your confidence, your impression and how you want to be perceived overall.
Here are some ways to jazz up your work from home office meeting attire to give you more clarity on knowing what to wear-
1. Wear Your Best Colours on Top or Around Your Decollatage-
I would recommend choosing a nice top or shirt that matches your eye colour if you're not exactly sure what your best colours are suited to you. TIP– a colour will either wash you out, or enhance and liven your complexion.
Or if styling your look with neutral colours, opt for an accessory colour that suits your colour palette and personality like a necklace, earrings or silk scarf.
Be conscious of wearing striking colours and busy/clashing prints like heavy stripes as they can work against you, and also think about how you want to be portrayed especially for an interview for a potential job or a new client, as colour has a deeper meaning than we realise…
Eg; the colour 'Black' can signify being; reserved, conservative, corporate, sexy etc… whereas the colour 'White' can be fresh, inviting, vibrant, peaceful and the colour 'Blue' can signify trust, loyalty, confidence, intelligence to give you an idea…
For the gents: Same rules apply with colour, however with accessories I would suggest either a block coloured tie or pocket square (if the role is senior and requires strict professionalism).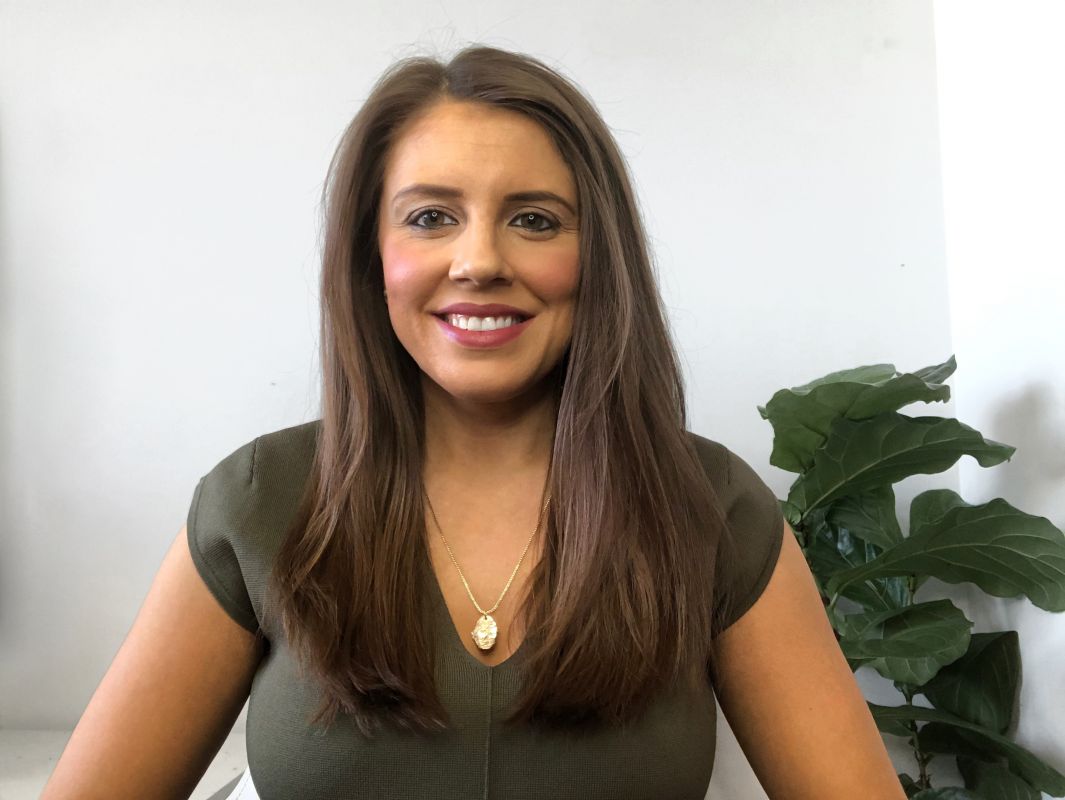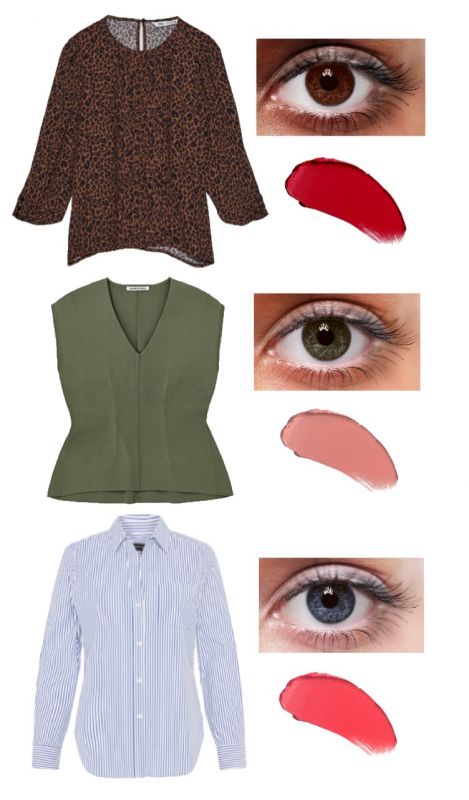 Image on Left- I'm wearing an olive green top to match my eye colour.
Image on Right- Examples of suggested colouring to match eye colour only with a suggested lip colour.
2. Wear a V-Neck or V-Shaped Accessory Like a Scarf or Necklace-
I always suggest to my clients when dressing to meet with a new client for the first time, a good tip is to wear a V-neck. Opt for a standard v-neck (not a deep-V), that doesn't expose cleavage, or alternatively a scarf tied in the shape of a 'V' or a v-shaped necklace. The reason for this is that it creates a level of trust and open-ness.
Gents: Opt for a blazer that shapes in a 'V' towards the waist or a v-neck top.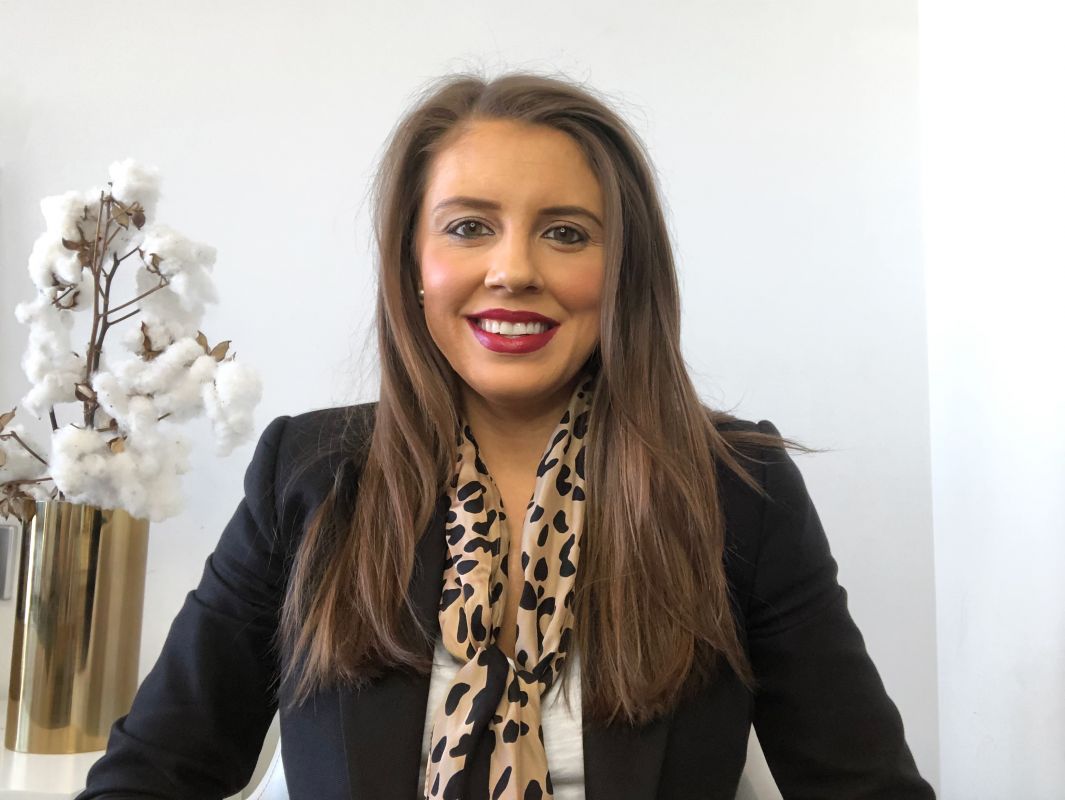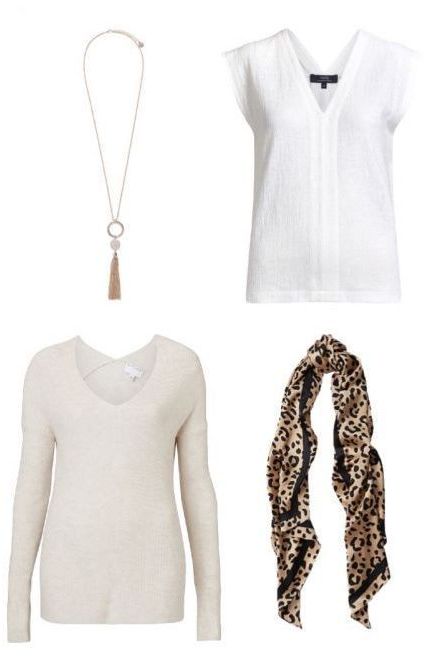 Image on left- I've tied the Witchery Leopard print scarf into a v-shape which instantly lifts the look.
Image on right- Forever New v-shape pendant necklace, Saba v-neck top, Witchery v-neck sweater and Witchery leopard scarf.
3. Put Effort Into Your Overall Appearance Including Hair & Makeup-
Maybe opt for a nice contrasting lipstick, like coral, red, or pink. Or wear an eyeshadow that enhances your eye colour, or a nice hair style that frames your face and highlights your best features.
Or why not try a different hair style or putting your hair up or use a nice hair accessory.
Keep in mind- The camera quality on computers tend to wash people out, so the more effort you put into your hair and makeup, the better we appear on camera.
Gents- Clean shaven/groomed, shower, make an effort into your appearance on camera just like you would if you were going into the office etc..
Image on left- I'm wearing a simple sweater and dressed up the look with a pop of red on the lip, full makeup and a printed scarf.
Image on right (from left to right)- Are examples and recommended pieces- Too Faced Eye Shadow Palette, Charlotte Tilbury Shadows, Nars Matte Lipstick, Charlotte Tilbury Red Lipstick, Nars 'Hot Fix Cheek  Palette', Seed Pearl Hair Clip, Witchery Headband, Too Faced Mascara, Witchery Houndstooth Scrunchie.If
4. Use Accessories to Your Advantage-
The right accessories can really compliment and polish a plain top, like a t-shirt or sweater. So choose an accessory that you can see from the waist up, and that pairs back with the look nicely without looking too over the top or under-dressed. Statement accessories like earrings and necklaces, silk scarves or maybe try a hair accessory like a pearl clip, scrunchy or headband.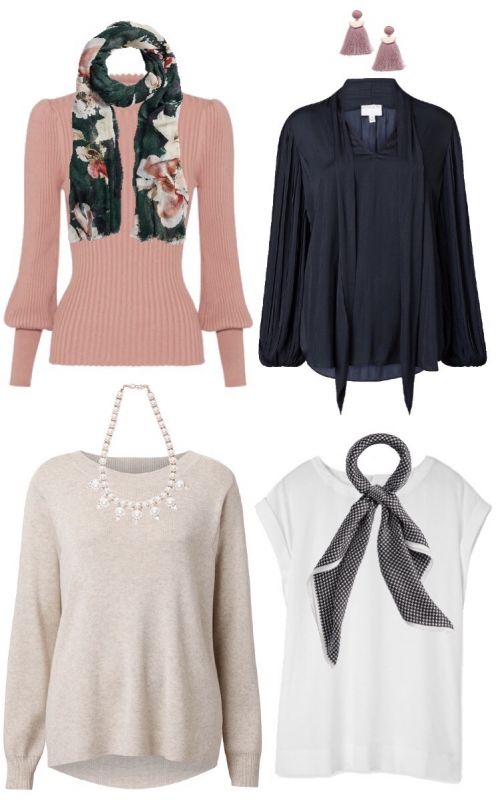 Image on left- I've added a simple pearl hair clip from Reliqua to add a bit of 'chic' to the look.
Image on right- Some examples of accessory inspiration and how you can instantly bring a plain top to life.
5. Throw on a Professional Layer Over Your T-shirt-
If you want an easy, instant, professional look, style your favourite blazer over a plain t-shirt and option to style it with an accessory to give it that wow factor in less than 5 minutes.
An easy go to would be:
Black or navy blazer styled with a basic t-shirt and either some jeans, leggings, joggers or loungewear bottoms.
Opt for a smart casual dress and a blazer
Alternatively you could wear a tweed jacket, leather jacket (depending on the type of work meeting).
Gents: Opt for a blazer layered over a plain neutral coloured t shirt like white, navy, grey etc.. or a casual shirt with a blazer. Note- this advice would vary depending on the professionalism of the role and would advise on blazer, work shirt etc if required.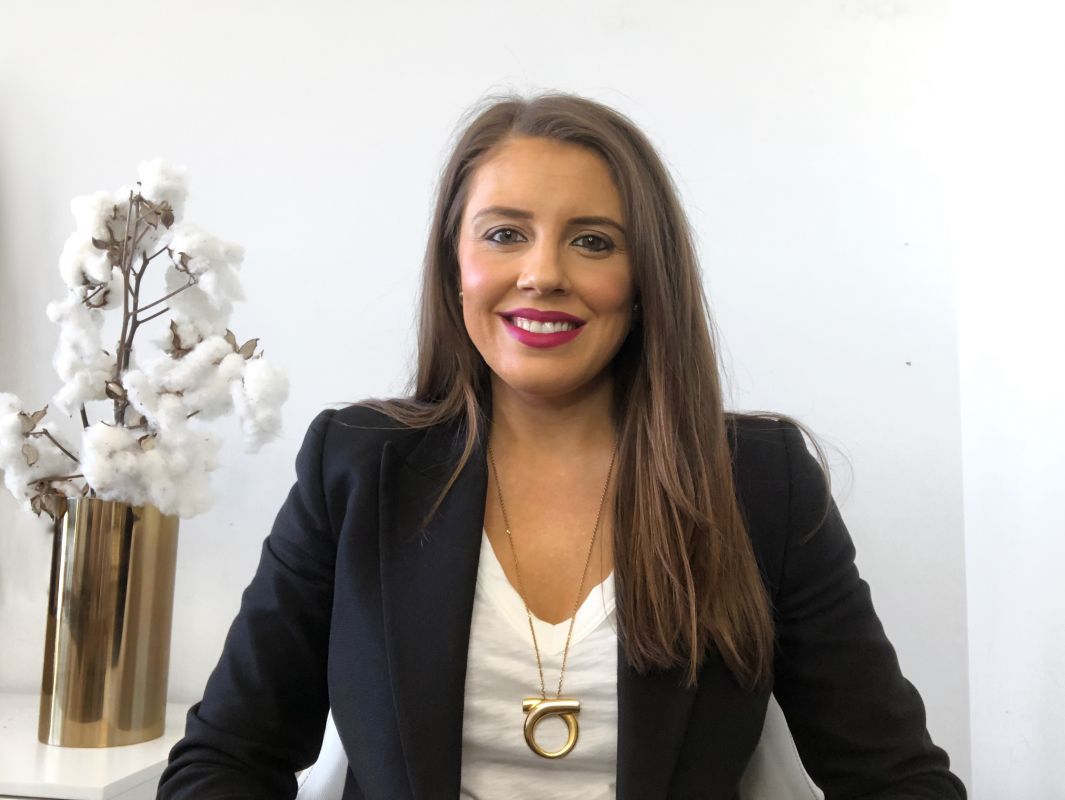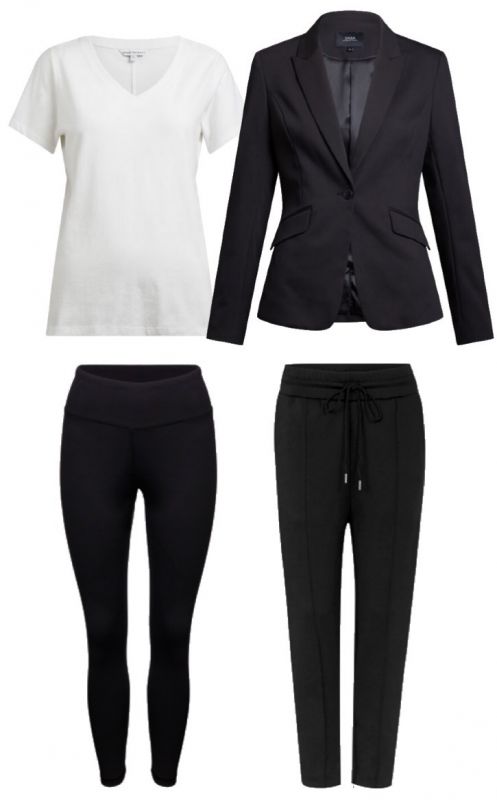 Image on left- I'm wearing a casual t-shirt by Rag&Bone, Camilla and Marc blazer and Ferragamo necklace.
Image on right- Sportscraft t-shirt, Saba t-shirt, Decjuba leggings, C&M Roan pants.
6. Alternatively Wear a blouse or Shirt Layered with a Casual Layer
Opt for a cardigan or waterfall jacket and a dressy accessory like earrings, necklace or silk scarf to polish the look.
Gents: Wear a business shirt layered with a cardigan, sweater or a casual blazer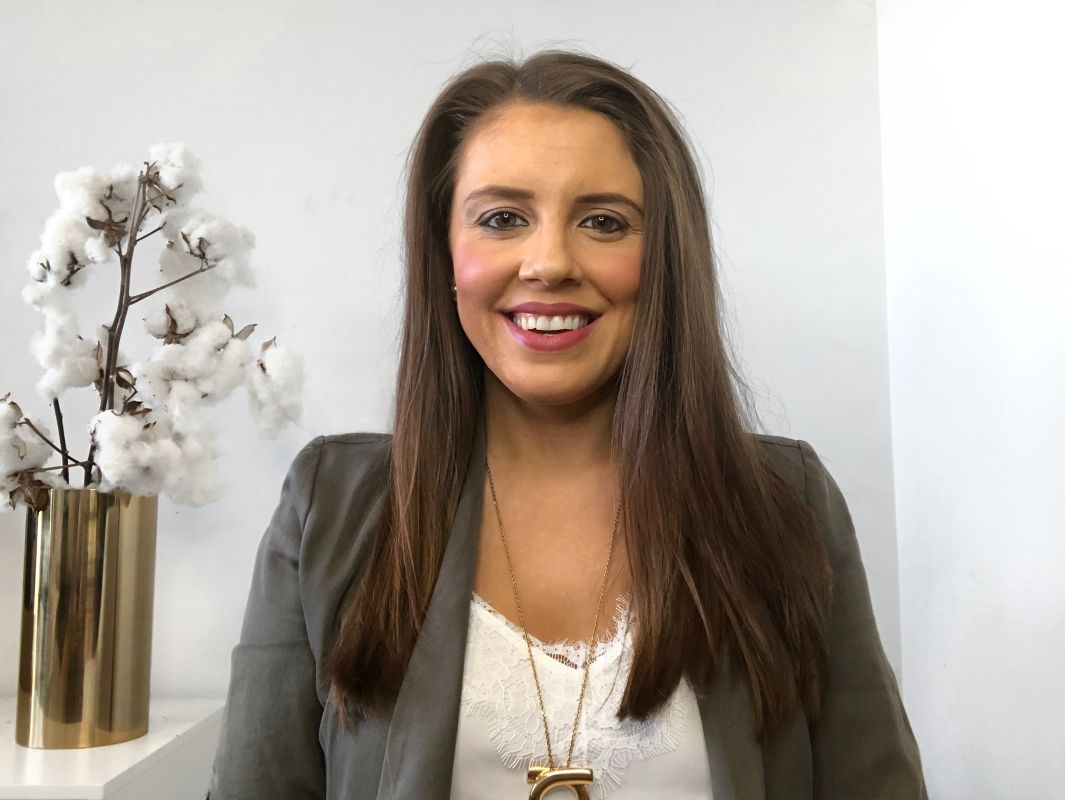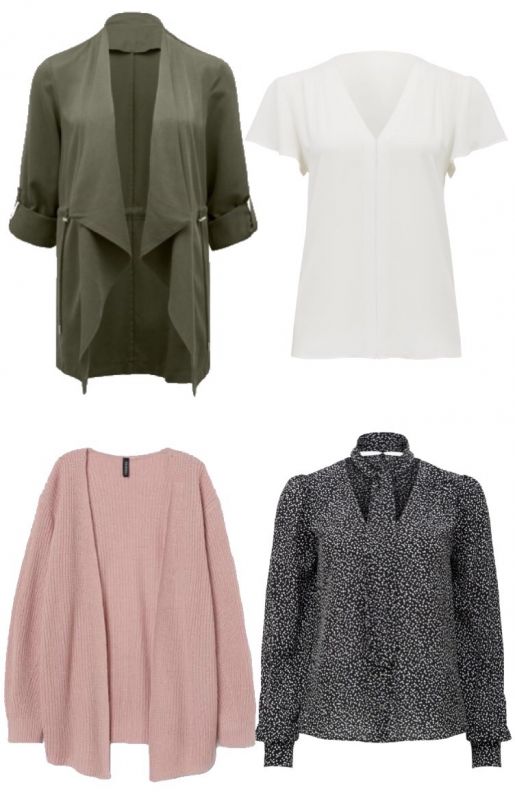 Image on left- I'm wearing a dressy blouse from Review with a casual waterfall jacket from Forever New.
Image on right- Waterfall jacket and white flutter sleeve blouse from Forever New. Pink cardigan from H&M and black & white print blouse from Forever New.
*MEETING SETUP TIP-  Also one other tip that you may not be aware of, is making sure your Online Zoom/Skype meeting 'space' (background) looks clean, clutter and mess free, the room is well lit with natural light, and avoid sitting directly underneath lighting  as it's NOT a good look. Or any lighting that gives shadows to your face.
If the meeting is during the daytime, use natural lighting facing towards you eg; facing a window rather than having the light behind you.
If you would like to find out more about how you can nail your looks for your next Zoom meetings and learn your best colours and styles online, Josephine Eve is offering a special offer at the moment on Online Style Consultations.
Book your session today to give you that boost of confidence you deserve.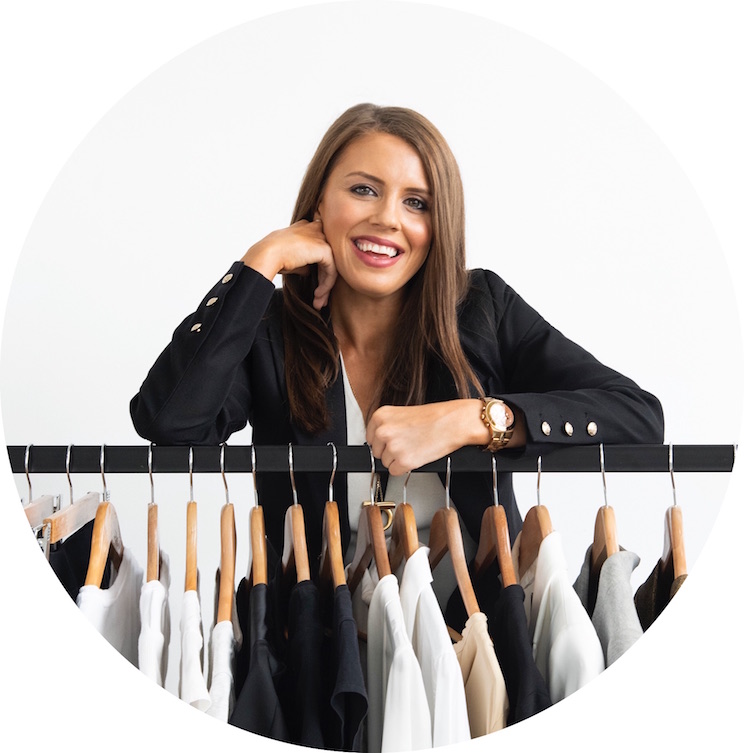 enquiries@josephineeve.com