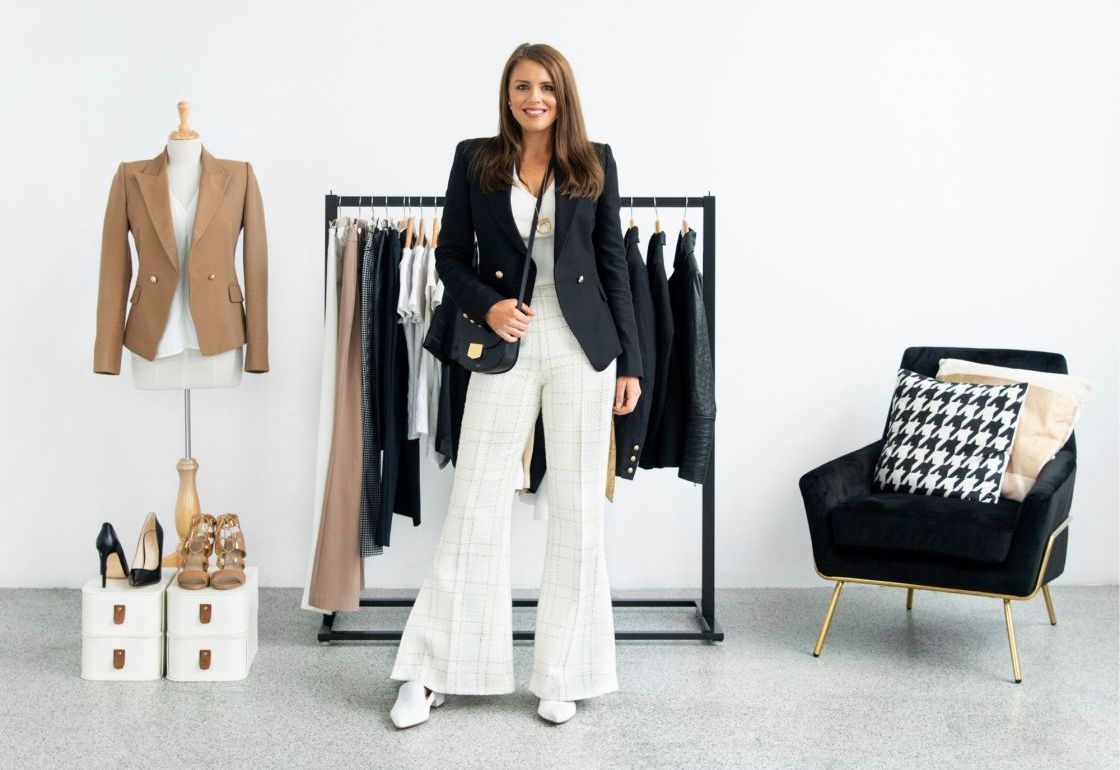 When it comes to feeling and looking great on a daily basis, comfort is key.
And since the corporate environment has started to become a lot more casual in the uniform these days, and people wanting to opt for comfortable corporatewear, I've prepared a simple 3 step method for you, to help you nail your smart casual corporate outfits to help you get ready of a morning with ease and confidence.
Recently I had the pleasure of being interviewed on the ABC News and for a news article about how the Covid Pandemic has changed the way that people dress in the corporate workplace. And it really has changed many corporate businesses' dress standards, which have become a lot more relaxed in their work attire and less 'business suit and heels' focused.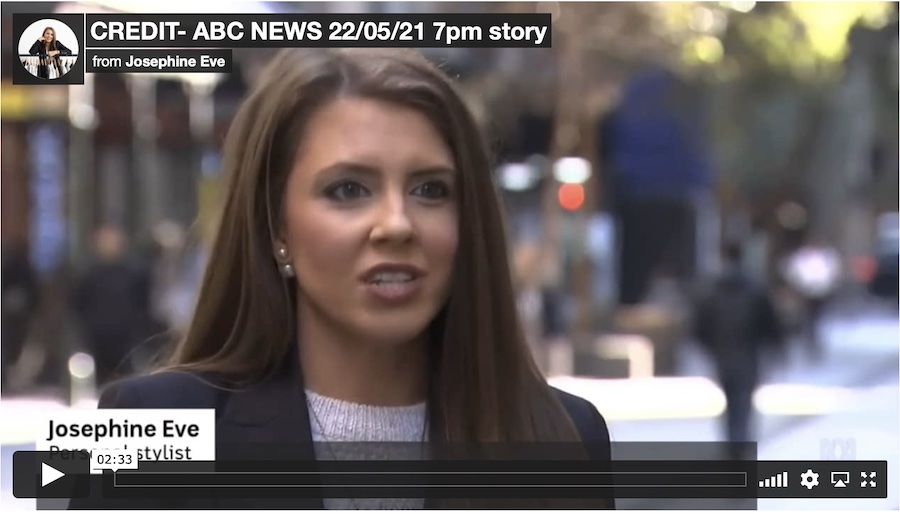 It is interesting though as I've had a few businesses and clients mention to me they aren't all very impressed with what some people are rocking up to work wearing and dressing in casual mini dresses or t-shirt and jeans, and the lines can definitely get blurred as to what is too casual and what is actually accepted as a smart casual corporate look for your workplace.
I understand that many businesses have different dress code standards, with some being very relaxed and some quite conservative, so you can adjust with my tips accordingly to your work's standards and you will see what I mean in the 3rd step when I go into more detail.
STEP 1-
The first step to knowing how to create the right balance of 'professional' and 'casual' to your work outfits is to first identify what items in your wardrobe are professional.
These are items that have a dressier, corporate, smarter look and feel to them.
These can be anything from-
Blouse/Tops that have dressy elements/look; silk, lace, crepe
Blazers
Capes
Vest type blazers
Tweed jackets
Trench coats
Statement jackets/blazers- (eg; detailed, printed or coloured)
Corporate trousers
Pencil skirts
Pencil dresses
Corporate midi skirts
Earrings in silver, gold or rose gold
Pendant necklace in silver, gold or rose gold
Statement Necklace in silver, gold or rose gold
Watch in silver, gold or rose gold
Silk or crepe scarves
Pointed or rounded pump heels
Statement shoes eg; leopard print, red, jewelled etc..
Dressy enclosed ballet flats or loafers
Black leather ankle boots with a black heel
Work tote bag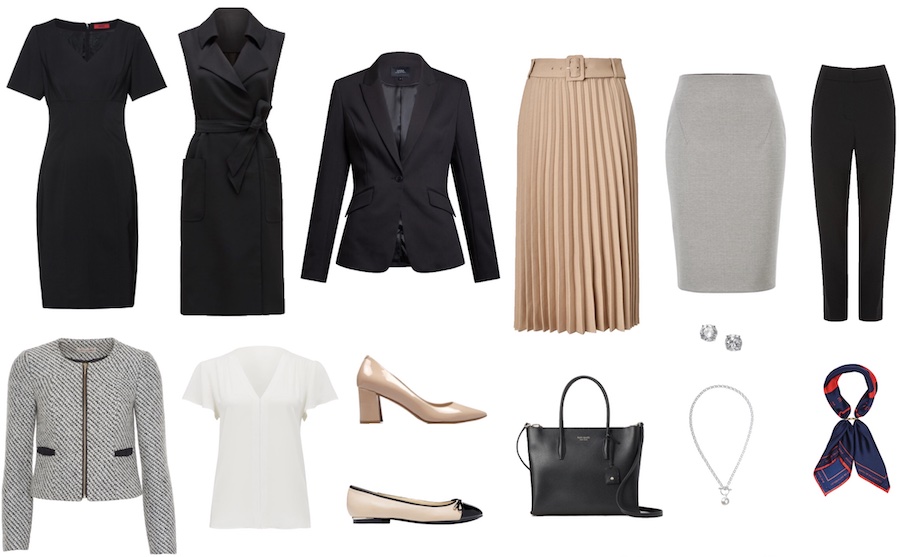 *Above are just some examples of corporate 'Professional' type clothing and accessory items.
STEP 2-
Then you'll need to identify in your wardrobe which casual items that are in your wardrobe.
So casual items you could style in your looks are:
Corporate T-shirts (structured cotton or have a smart appeal)
Casual tops
Casual shirts- breast pocket shirt in crepe
Fine knits (not chunky cable knits)
Thin knit cardigans
Waterfall jackets
Duster coats (lightweight trench)
Leather Jackets- need to be a particular style (not a biker style)
Dark coloured jeans or chino's (not for every business)
Smart casual midi length dresses
Smart casual a-line skirts (not short)
Cotton scarves
Leather banded watch
Casual looking loafers or ballet flats
White leather sneakers- be wary that sneakers aren't commonly accepted in a lot of businesses.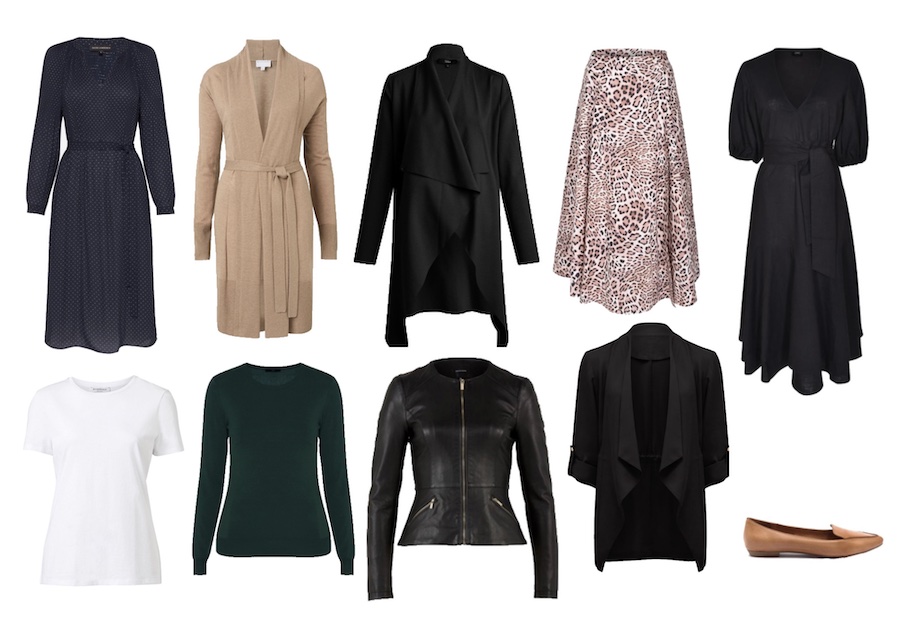 *Above are just some examples of 'casual'  type clothing and accessory items that may be appropriate for your workplace. Use this at your discretion as each workplace is different.
STEP 3-
Now for the final step it's all about styling both foundations together, so essentially mixing 'casual' with 'professional'.
I absolutely love teaching this at corporate workshops and to my clients, as it is such a game changer when you understand the simple foundations to getting the balance right for your smart corporate outfits.
The amount of casual items that you style in each look will depend on a few things:
Your role
If you are client facing
If you are attending corporate events & outside meetings
And it also depends on your company's dress standard and expectations.
If you have a more conservative work environment then I would advise that you only style 1 or maximum 2 casual items allowed per outfit. The amount of casual items you add to a look can depend on a few things, but generally if the casual items dominate your whole look, you might need to change up the items to balance it to give a more corporate look.
Once you've identified both casual (relaxed) and professional (work) items, you can then play with mixing those elements together depending on how dressy or casual your day is going to be.
For someone who has a more relaxed work environment and is pretty flexible on what you wear to work in terms of casualness, then you could try a few of the following options-
-Waterfall jacket (casual), blouse (professional), work pants (professional), casual loafer/ballet flats (casual) OR enclosed heels (professional).
-Blazer (professional), t-shirt or knit (casual), smart casual midi skirt (casual), dressy flats or heels(professional).
Let's say you aren't seeing any clients that day, then you could wear a cardigan (casual) with a pencil dress (professional) or with a blouse (professional) and pant and heels (professional).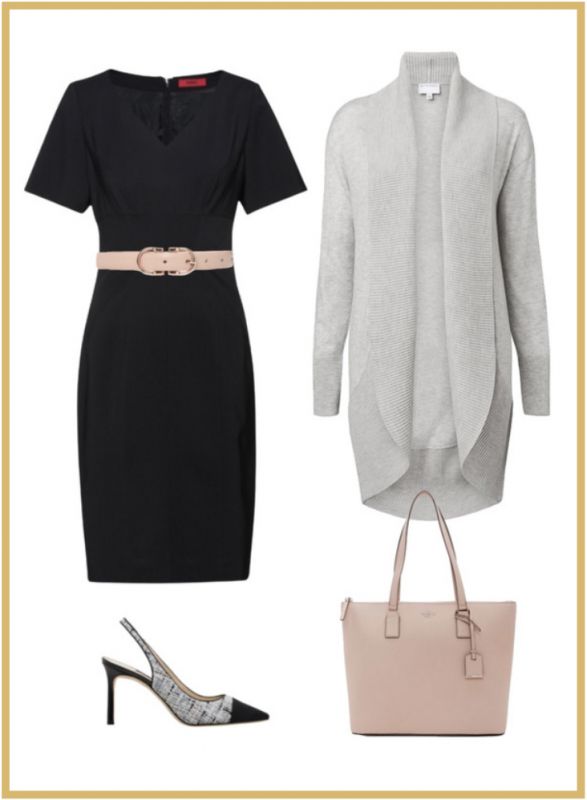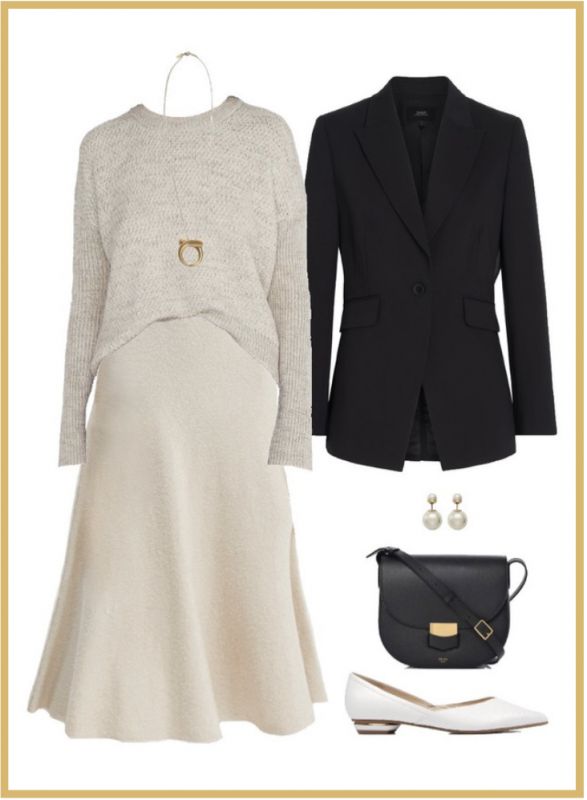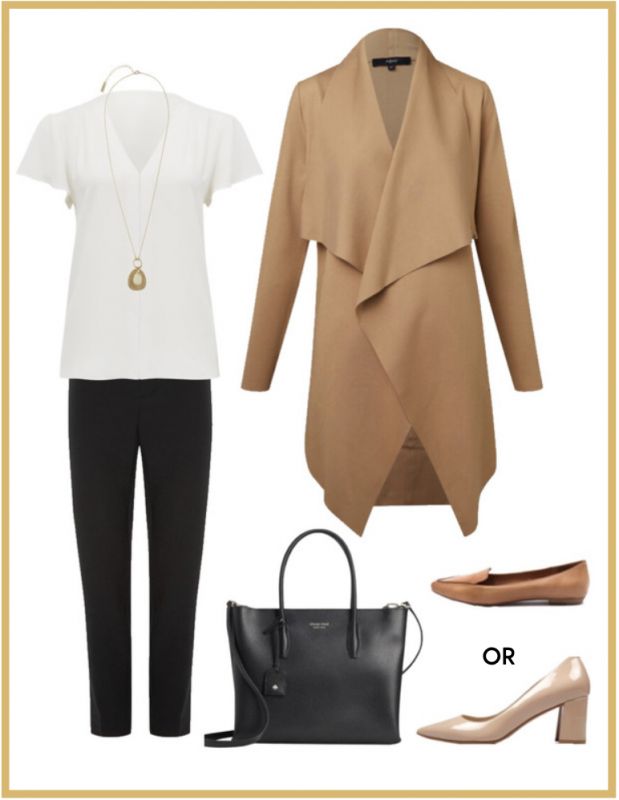 Middle outfit is available from SABA which I wore for my ABC News interview- Mary knit midi skirt, Ali Wool blend bubble knit top & Tia longline blazer.
Conservative offices- 65-90% of your outfit needs to be corporate/professional*
Relaxed work environment- 40-65% of your outfit needs to be corporate/professional*
Very relaxed non client facing work environment- 30%-40% of your outfit needs to be corporate/professional*
*- These tips are based a general overview of different environments and to be taken at your discretion, and your workplace dress code rules may vary even if you are client facing or non client facing, so check in with your workplace just to make sure you're on the same page.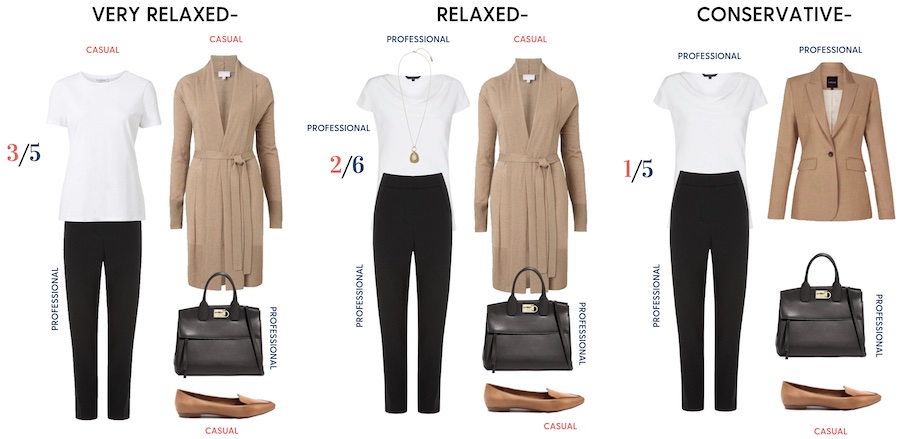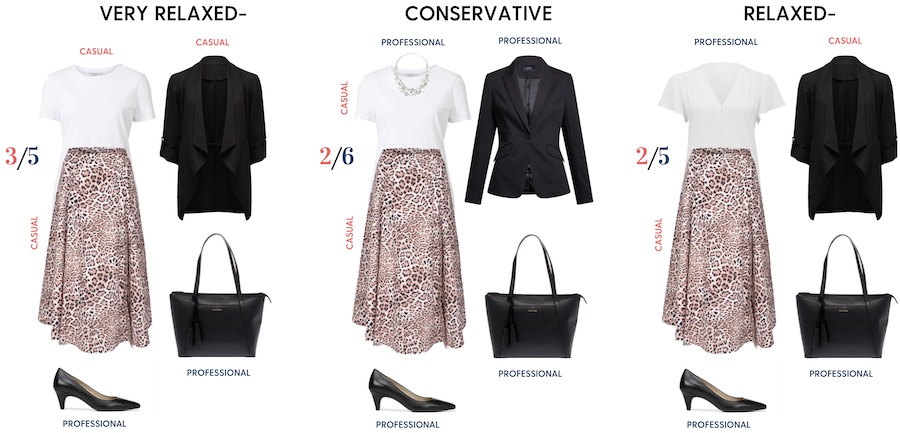 EXAMPLE OUTFITS- The above outfits; I've labelled all of the items accordingly by 'Casual' pieces or 'Professional' pieces. The number in red shows how many items are casual and the black number shows how many items there are in total in the outfit. The idea is to add or change pieces over if there are too little professional pieces or too many professional pieces in the outfit.
Did you enjoy reading my style tips? Want to learn more?
Sign up to receive my Wardrobe Success Checklist to Help you Create the Wardrobe of Your Dreams.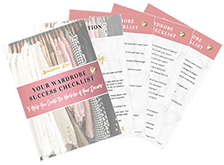 If you feel like you want some further help with updating your everyday work & weekend wardrobe PLUS learn tonnes of more styling tips and advice catered specifically to your needs, then check out my Wardrobe Update Package-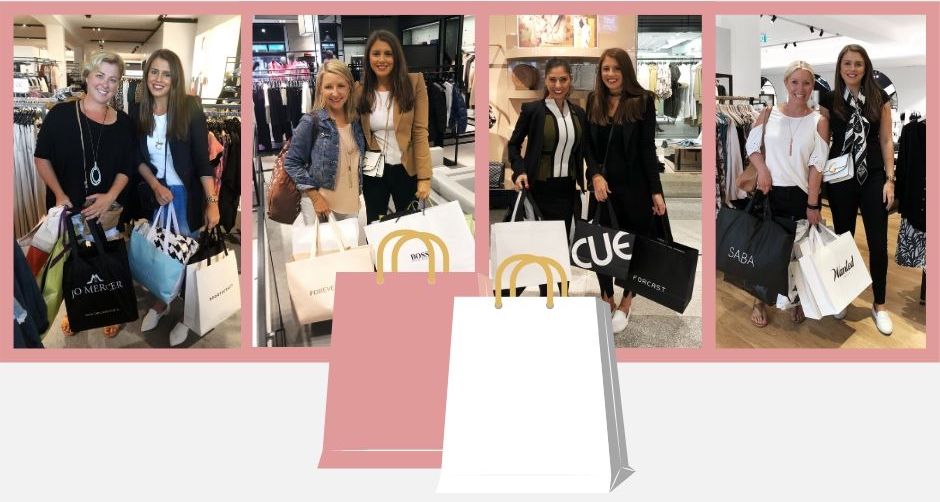 So if you want to nail your wardrobe and develop the confidence that you absolutely deserve, I'm here for you, and I'm cheering you on every step of the way...!